01/07/2020 –
Decorative and upholstery fabrics
— auf Deutsch lesen
Top trend sustainability
The interior trends this year is all about "colour – luxury – functionality" with sustainability at the top of the agenda.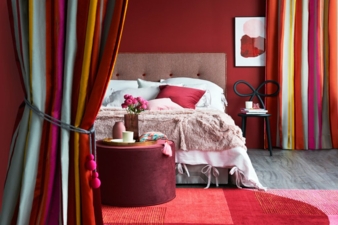 According to the organisers at Messe Frankfurt, "Even though consumers are only just starting to demonstrate a greater willingness to spend more on environmentally-friendly fabrics and we are not quite there yet in terms of figures, supply and demand at the world's leading trade fair for home and contract textiles was bigger than ever before." The textile industry is starting to embrace concepts of durability and "second life" in many more products.
Martin Auerbach, General Manager of the Association of the German Home Textile Industry:
"The industry is at the cusp of change. In order to achieve a circular economy, we have to re-think and re-shape the entire supply chain. We have to move away from the traditional focus on the product itself and redesign our approach from a different perspective. We need to ask: What would a product based on a truly circular economy look like? How can we create the functionality we want within this framework? And finally: How can manufacturers set their products apart from the competition?"
Many companies are leading the way and attracting attention with recycled materials that protect the environment and ocean life. Yet, there are even more innovative and revolutionary ideas in development, such as experimental forays into transforming algae and stinging nettles, growing fungi on a mesh of cultured materials, and exploring the potential of biological by-products such as orange peels, agave leaves, berries and chestnuts.
Research carried out by the Heimtextil team reveals that when it comes to sustainability, many manufacturers are still in the development phase. "We are currently investing heavily in ecological processes and products. That is a powerful trend," says Riccardo Redaelli, Sales Manager at Redaelli 1893. The expert in high-end upholstery and decorative materials showcased its Redaelli Coex range, a fire-resistant velvet created without the use of chemicals. Instead, this innovative technology is based on the molecular modification of cellulose.
Colour is back
This is the central theme set by the DecoTeam representing 14 leading German home textiles and sun protection providers. Taking inspiration from the forecast of the international Heimtextil Trend Council, the team presented three themes – sensual, casual and colourful – with unique colour concepts, new haptic experiences and a plethora of interior design ideas.
In true fashion, the theme "colourful" is expressive, bright and striking. Fabrics by Apelt, Englisch Dekor and Saum & Viebahn offer a rich colour palette including nuances of orange, curry, pink, bordeaux and marsala combined with hues of green, petrol and turquoise as well as gold and black highlights. This sense of opulence is also reflected in the materials and structures from glamorous jacquards to indulgent velvet and wild silk.
"Casual" introduces an element of hygge into living rooms and bedrooms for that special touch of Nordic cosiness. Fabrics and other products by Unland, Neutex, Höpke and Erfal transform interiors into an oasis of natural materials with linen and cotton fabrics featuring stripes or plain designs and a soft colour spectrum from off-white and creme-white to shades of grey.
"Sensual" in all its shapes and forms of effortless elegance and exquisite feminine flair is embodied by products created by Gardisette, Heco, Höpke and MHZ. This theme is defined by semi-transparent fabrics, light velvets and linen textures in light and soft colours as well as powdery pastels. Modern sunshades and carefully coordinated decorative and upholstery fabrics create a seamless flow.
Functionality in contract fabrics
Particularly in the hospitality industry, functionality is at the top of the wish list for textiles customers. The four most important criteria are abrasion-resistance, sound absorption, flame retardancy and water repellence. The Interior.Architecture.Hospitality Library presented a compendium of innovative contract textiles at Heimtextil and is also available online throughout the year. The category "sound absorbing" shines a light on products featuring a honeycomb design and offering interesting design options through digital print. "Water-repellent" fabrics surprise with surfaces that transcend the traditional expectations of being flat and smooth. When it comes to "hard-wearing" textiles, low weight per unit area is an important criterion. The category "flame-retardant" focuses on textiles with a particularly fine structure, a low weight per unit area and an open web-like structure – all whilst withstanding stringent fire tests.
Sustainability also plays an important role for the contract sector. Among the most popular products are yarns made from recycled PET bottles. Trevira is one of the leading manufacturers in this field. "In recent years, Trevira has worked hard in collaboration with its partners to make its synthetic fibres look and feel as natural as possible. We also constantly strive to optimise the various functionalities and properties of our products. Trevira now offers fibres and filament yarns that are manufactured in both pre- and post-consumer recycling processes," explains Anke Vollenbröker, Marketing Director at Trevira.
DecoTeam
The DecoTeam represents 14 leading German textiles manufacturers of curtains, decorative and upholstery fabrics, sun protection and carpets.
Its members include: Alfred Apelt, Bandex, Englisch Dekor, Erfal, Gardisette, Germania, Haro-Teppiche, Heco, Höpke Möbelstoffe, MHZ, Neutex, Saum & Viebahn, Stoeckel & Grimmler, Unland. The DecoTeam is a creative collaboration that creates exciting trends; it is a true show of force at the Heimtextil with a large dedicated area and a joint marketing strategy.