Delcotex: Unique coating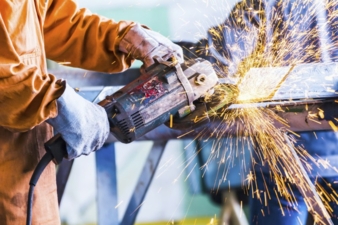 Delcotex Delius Techtex, based in Bielefeld, Germany, has added a unique flame-retardant coating to its highly durable Cordura fabric. The resulting special-purpose Deliflame FR fabric combines the familiar properties of versatility, resistance and durability with tested and approved flame resistance. The fabric is particularly aimed at heavy-duty work clothing as well as protective equipment in the police and military.
Many characteristics have to come together in workwear with increasing demands from professional associations, legislators and employers on the fabrics used. Cordura fabric has proven its worth in a variety of applications over the years; however, the fabric lacked one feature – flame resistance – according to Delcotex chemical engineer Dirk Lange: "We've seen demand for it over and over, and now we've developed an effective solution."
The challenge facing development came in the modified polyamide 6.6 (PA 6.6) as used in Cordura. This gave the fabric its required robustness, but still made it very difficult to coat the yarn for flame resistance according to Lange, but "inherently flame-retardant systems such as Trevira CS yarns with meta-aramids have nowhere near the same performance characteristics as Cordura."
The fabric needs to be water and oil-resistant and soft to the touch, and the plies shouldn't block or chalk. Delcotex has developed a unique back coating to counter this. Deliflame FR has been tested by the accredited D-LAB fabric laboratory, and keeps its flame-retardant qualities even after several wash cycles. The result is a fabric with all the positive characteristics in combination, as documented according to a variety of standards.
Deliflame FR is flame-retardant according to the following standards: DIN 4102-1 B2 (based on), DIN EN ISO 15025 including DIN EN ISO 14116 (Index 1), DIN EN ISO 6941 (15s edge flame exposure), and DIN 53438-3* (Class F1). Deliflame FR goes beyond a number of regulatory requirements while preserving the familiar high level of durability in Cordura. "This also makes the fabric suitable for extremely high demands on personal protective equipment in the police and military as well as workwear applications," said Lange.
Delcotex designs, manufactures and optimises fabrics. The company is a member of the C.A. Delius holding company, and emerged from the technical fabrics product division of Delius GmbH in 2003. Delcotex runs an extensive range of state-of-the-art equipment ensuring consistent customisation and development as well as technology and organisation and a high level of efficiency and deadline compliance at its Bielefeld location. The company's services range from designing technical fabrics and fulfilling international standards to quality testing in its own accredited laboratory.