Bremen Cotton Exchange launches videos about cotton
The cotton community celebrates the World Cotton Day today, on October 7th, and the Bremen Cotton Exchange contributes to the activities on this special day.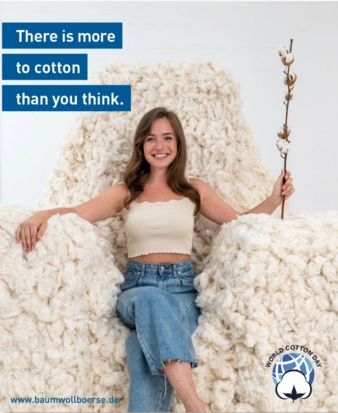 Three consumer-oriented videos will go online on the occasion of World Cotton Day 2020. It is the aim to highlight the positive features of the fibre and to illustrate its global meaning. The professionally produced short films can be watched on the internet as well as on selected platforms. Click here to see the videos.
Just like last year, the Bremen Cotton Exchange will make use of its presence at the Bremen market: Once again a large poster that is visible over a long distance will be attached to the building's wall during the week of the World Cotton Day. The subject calls attention to cotton as the livelihood for about 150 million people worldwide.
All around the globe, there are countries and organizations involved in cotton or textiles that are going to contribute with local activities to this year's World Cotton Day including photo competitions, informative videos and cooking activities. The ICAC website gives an overview on all projected activities.