20/12/2021 –
Threads for protective clothing
Durak Tekstil aramid threads provide high durability
Ankara-based IST Safety Ltd uses Durak Tekstil's para-aramid sewing threads and meta-aramid sewing threads in their protective and heat-resistant clothing.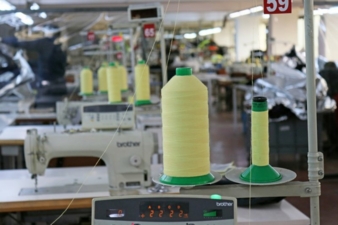 Today, special protective clothings and equipments are needed for hazardous and high-risk jobs. Sewing threads that can withstand these difficulties should be used in the production of protective and durable clothing. Durak Tekstil, the leading industrial sewing and embroidery threads manufacturer, responds strongly to this demand with its heat-resistant and high-strength meta-aramid and para-aramid threads in its product range.
Ankara-based IST Safety Ltd uses para-aramid threads that can withstand temperatures up to 500 °C and meta-aramid threads that can withstand temperatures up to 370 °C from Durak Tekstil, who has proven themselves in its protective clothing portfolio for a long time. IST is in a strong position in export markets as well as in Turkey with its heat and fire-resistant protective clothings, emergency safety showers, safety cans & containers and mobile breathing air supply units
Annually 5,000 bobbins
On average, 13 to 20 different materials are used in the protective clothing produced by IST, mainly technical fabric, reflective strips and closure elements (velcro fasteners, zippers). Durak Tekstil's aramid sewing threads fulfil the critical task of bringing these different materials together. IST has been working with Durak Tekstil since 2017 and reached an annual supply volume of 5,000 bobbins of para-aramid and meta-aramid threads with an ever-increasing capacity.
Durak Tekstil's meta-aramid and para-aramid threads, which have different technical properties, proved their success in different applications in the production process of IST. Meta-aramid threads produced by IST are able to withstand heat up to 370 degrees in the general sewing of the clothes. Meta-aramid threads have different colour options. Those threads contribute to the preservation of the entire structure of the clothing with their superior strength properties.
Aramid threads tested
The meta-aramid and para-aramid threads are offered to the market with safety and quality standards such as durability, flame retardancy and OEKO-TEX. In addition to these certificates, IST also carries out their own tests within the framework of the production of protective clothing against flame and high heat. A convective heat test is applied to Durak Tekstil threads in the laboratory.
In addition to the tests carried out in the laboratory, tests are carried out at regular intervals at Ege University Apparel Center and also at an international independent organization. It is determined that Durak Tekstil's aramid threads meet the required Newton value and get certified. Having international certificates such as SATRA and IQNET, IST protective clothing and equipment provide strong confidence in difficult and dangerous working conditions.
Durak Tekstil para-aramid and meta-aramid sewing threads, produced in accordance with international fireproof tests are extensively used in textiles in hotels and accommodation areas, work clothes, anti-ballistic uniforms, industrial protective gloves and shoes, filtering and thermal insulation applications as well as protective clothing.