Full speed ahead!
For those who know their way around textiles in Europe, Dietenheim is fairly sure to be a byword for high quality yarns and threads.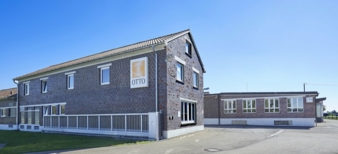 There, between Ulm and Biberach in Upper Swabia, Gebrüder Otto has been based for over a century. Throughout that time the company's owners have looked in one direction: forward. And that is why Gebrüder Otto, a family firm to this day, is strongly committed to technical yarns and textiles. The recipe for success is the same as for the firm's core business: cross-technology know-how, an unconditional customer focus and reliable product quality.
"These Dietenheimers are crazy"
"We are specialists for special requirements: Let us assume that our customer would like to manufacture a robust, abrasion-resistant fabric that is also flameproof. We will supply him with the yarn with which he can achieve the optimal result," says Andreas Merkel, managing director of Gebrüder Otto and great-grandson of the firm's founders, summarising its aspiration to make possible by means of experience, expertise and commitment what benefits the customer most. Or with the aid of these properties to identify and implement forward-looking approaches in-house.
Recot2 and Piumafil
That was how, inter alia, Recot2 and Piumafil, both Gebrüder Otto registered trademarks, came about. Piumafil is a yarn based on the fibres of the tropical fruit kapok. Kapok's attractive properties – it is lightweight and heat-insulating – have long been well known, but kapok fibre was long considered impossible to spin until Gebrüder Otto became the first spinning mill to manufacture a yarn – Piumafil – from a cotton and kapok mixture.
For Recot2 Gebrüder Otto spins cotton waste from, say, selvedges or spools into a new cotton yarn. The waste that is recycled in Recot2 is said by Otto and the University of Ulm, which followed the project scientifically, to be about 25 per cent, saving around 5,000 litres of water per kilogram of cotton yarn. The spinning process that Gebrüder Otto had to develop in order to manufacture Recot2 is remarkable from an energy viewpoint. It earned the Swabian inventors an award from the state of Baden-Württemberg. As one of "100 Firms for Resource Efficiency" the Gebrüder Otto approach was hailed by the state's Environment Ministry as "exemplary" and "worthy of imitation".
That certificate, along with other awards and documents from ISO 9001, ISO 14001 and ISO 50001 to GOTS, Fairtrade and Ökotex, covers an entire wall at the company's head office in Dietenheim. Sustainability, as that wall clearly demonstrates, is a priority at Gebrüder Otto. "That applies to raw materials, processes and products," Andreas Merkel says, pointing to a glass cabinet alongside the certificates on the wall. It displays internationally known luxury brand products side by side with sustainable children's clothing labels. "Today, leading brand-name manufacturers are looking not just for the best product in terms of quality; they also demand transparency in procurement and production and expect their suppliers to demonstrate social commitment. We do that, for instance, with the 'Dietenheim zieht an' sustainable textiles event."
Merkel stops to think for a moment, a gleam comes into his eyes and he smiles. "Sometimes," he says, "I simply present our company with our version of the Asterix quote 'These Dietenheimers are crazy!'" (For Asterix the Gaul the Romans were crazy, of course, while in German the verb spinnen, to spin, also means to be mad.)
Combining visions, a down-to-earth approach and strong partnerships
It is this mixture of dynamism, soundness and reliability garnished with Swabian charm that the company's customers and partners appreciate. Many of them have relied on their supplier for years or for decades. Gebrüder Otto also collaborates closely with universities, including the University of Ulm, research institutes and engineering companies. The family firm regularly serves as an experimental spinning mill or sparring partner when new machines or processes are to be tested. Merkel sees that as a benefit because "we increase our knowledge pool every time and, as a result, are increasingly seen by customers and partners alike as a competence and development centre. And as we are aware of ongoing developments at an early stage we can include them in our considerations when developing customer-specific solutions."
Offer timeless values: "Quality always works"
It is these customer-specific solutions with which Otto convinces customers for technical yarns and textiles. "In this segment trusting collaboration between customer and manufacturer is even more important than in the traditional application areas for our products," says Andreas Merkel on a tour of the company's technical spinning mill in Balzheim, where rows of spindles whizz around as they take up high-tech fibres destined for novel uses.
An innovative solution is often preceded by lengthy, intensive cooperation, the managing director says. It ends with a product that is totally customised, with a 'recipe' about which the partners agree to full confidentiality. What is soon talked about, however, is for example the ultra-pure quality of the yarns that Otto uses. "That always does the trick," says Merkel with a grin. "With a customer in the international luxury food industry just as with a leading underwear manufacturer from the Swabian Alb region."
Adopting new approaches: Spin-knitted functional wear
A success story from the technical sector that can readily be cited is spin-knitted fabrics. Years ago Otto took delivery of one of the first combined spinning and knitting machine models. The technology and the machine came from the circular knitting machine manufacturer Mayer & Cie., who were looking for an application partner. Their collaboration was so successful that the partners were among the top three winners of the 2015 ITMA Sustainable Innovation Award.
Spinning and knitting machines have since made substantial progress but the Otto model already has the typical benefits of the process combination, saving space, time and resources. Spinning and knitting doesn't used finished yarn; it uses roving, in Otto's case technical roving. "We did a lot of work on our spinning and knitting machine, adapting components and carrying out trials," Otto's Robin Hefter recalls. "The result is successful processing of aramid roving from which we make fabric for protective clothing."
Fire services are currently testing this protective clothing
The feedback is positive: "Everyone to whom we show the products is surprised that it is a purely aramid fabric," says Hefter, Gebrüder Otto's product manager technical textiles. The yarn from which the fabric is knitted is not twisted, a fact that has a positive effect on the finished product. "Our protective clothing feels so fine, so fluffy and so natural that everyone at first imagines it to be a cotton blend. 'Air chambers' also take shape between the straight fibres that for the same amount and weight of material increase the end product's insulation capacity. With the spinning and knitting machine we thereby achieve increased wearing comfort and improved product properties compared with alternative production processes."
As for wearing comfort, to produce as ideal a product as possible Otto also always looks further afield than at its own options. It has its aramid jersey fabric, for instance, treated so that it has smell-retardant properties – a factor that further upgrades the product.
Or, to use Andreas Merkel's words, "we don't wait until the customers tells us what his requirements are. Instead, we constantly ask ourselves the same questions: What might be of benefit for the customer? What will tomorrow's market requirements be and how can we best prepare ourselves and our customers for them?"
Techtextil
Gebrüder Otto is exhibiting at this year's Techtextil trade fair in Frankfurt. Customers, trade visitors and interested parties will find the firm at Stand D81 in Hall 3.1 from 14 to 17 May 2019. The Otto trade fair team will be there to meet them at the Baden-Württemberg International (bw-i) joint stand.
by Claudia Bitzer