04/08/2020 –
Wicket 13 + 14: Ingredient branding with Cotton since 1901
— auf Deutsch lesen
Gebrüder Otto launches new Made in Germany yarn brand
Gebrüder Otto, a fine twisting and spinning mill in Dietenheim, Baden-Württemberg, has launched its new brand "Cotton since 1901. Made in Germany".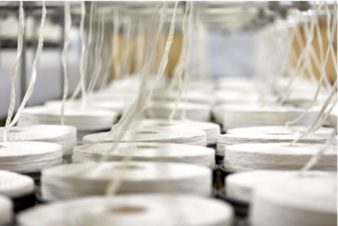 The long-established firm combines under this brand name all cotton yarns to which value has been added in Germany, where Otto spins, doubles or dyes certified raw cotton. This approach complies in advance with the requirements of the Supply Chain Act that is planned for 2021 and thereby generates additional added value for processors of Cotton since 1901. The yarn manufacturer Otto is using ingredient branding for the first time to draw attention to the high-quality ingredients in ready-made goods.
Cotton as a regional, transparent product
"At school we learnt that no cotton is grown in Germany," says Andreas Merkel, managing director of Gebrüder Otto. "That is why the most important raw material of our clothes is felt to come from far away. Yet cotton yarn can be a truly regional product that is spun, twisted, dyed and refined by us right here in Germany."
The fine twisting and spinning mill to which Andreas Merkel is referring is in Dietenheim, near Ulm, where Gebrüder Otto has been in the business of manufacturing cotton yarns in Baden-Württemberg for nearly 120 years. The raw cotton comes from Europe and the Mediterranean countries, mostly from longstanding suppliers. Otto's requirements are clearly stated: the raw cotton must be grown in fair, modern, ecologically impeccable conditions and it must be extra long staple cotton. To underscore the transparency and regionality of its cotton yarns Gebrüder Otto has since April 2020 provided it with the seal of quality Cotton since 1901. Made in Germany. The brand conflates the values to which the company is committed. They are centred on value creation in Germany and sustainability of products and management. Consistency, future orientation and a high level of quality awareness round off the brand promise. "Many people want impeccable products and we should show that we can deliver them," says Otto managing director Merkel, explaining the reasons behind the Cotton since 1901 brand name.
"Our yarns are the DNA of quality clothing"
That is why Cotton since 1901 is aimed explicitly at end customers as well as at processors. All finished products made of Gebrüder Otto's Cotton since 1901 have a hang tag with a QR code and cotton seed. The digital code takes potential purchasers to a website with a film about manufacturing and the tradition of spinning at Otto. The landing page also has hints on how to plant the cotton seed; cotton thrives in suitable conditions in Central Europe.
"With ingredient branding we aim to make it clear to end customers how much knowledge, experience and passion there is in our yarns. They are, after all, the basis, the DNA of every high quality garment," Managing Director Merkel says. Gebrüder Otto is convinced that fashion labels, lingerie and baby wear manufacturers who process Cotton since 1901 brand yarns in future will benefit from this pull marketing. A brand that stands for transparent, regionally manufactured components creates consumer confidence and provides the end product with a unique selling proposition. In addition, Otto's Cotton since 1901 stands for compliance with future legislation. Because the supply chain can be tracked and traced and care is taken to observe human rights and meet environmental standards, the brand complies with the Supply Chain Act planned for 2021.
Sustainability: Now more than ever
Gebrüder Otto is currently engaged in discussions with various customers who want to use Cotton since 1901. As Andreas Merkel notes, "We have received a great deal of positive feedback. Interestingly, even the timing of our Cotton since 1901 launch has proved right." Due to the corona pandemic delay Gebrüder Otto was unable to launch the new brand until April 2020 in the middle of the lockdown phase. After quiet weeks in April and May demand for cotton yarns from Dietenheim has increased again and is aimed at sustainable, high-quality products of which Gebrüder Otto offers a wide range. "The corona crisis has worked like a magnifying glass. More than ever, people are questioning the origin of the products they buy."