30/03/2020 –
Sustainability – with a twist
— auf Deutsch lesen
Modus Intarsia: Going to the dogs
Rethinking the sourcing of naturally occurring raw materials, Modus Intarsia works with a resource which is plentiful in Europe.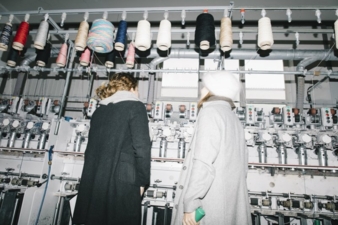 Global fibre demand has been increasing exponentially for years. Although wool and fine animal hair account for just a small slice of the fibre market, they still have a huge impact on eco-systems and are having to contend with the popular rise of animal ethics.
With the help of hundreds of four-legged friends and their keepers, Modus Intarsia is already successfully producing chiengora. Together with a small spinning mill in Saxony, the odourless, fluffy wool is produced in beautiful natural colours and soft qualities. Pure chiengora is 80 percent warmer than sheep's wool and naturally regulates body temperature. To keep the yarn sufficiently elastic, the wool is currently blended with alpaca and merino wool from Germany.
The market for fine wool and merino wool is dominated by no more than a handful of countries around the world. It is a highly volatile market that is sensitive to natural disasters and climate change.
Chiengora – the combed undercoats of specific dog breeds
More than 85 million dogs are kept as pets in Europe alone. Around half of these four-legged friends are of potential relevance to the company. Their undercoats are removed during routine grooming and usually end up in the bin.
The idea to make this resource available to the market and to make a sustainable contribution within the textiles industry was inspired by company founder Ann Cathrin Schönrock, a trained knitting and fashion designer, who was looking for an authentically sustainable yarn.
It soon became clear that chiengora had great potential. After the company's first successful year, Franziska Uhl, a budding textile engineer, entered the business. This year, the plan is to source the first tonne of this luxurious material.
The young, highly ambitious company is carrying out pioneering work on two levels.
On the one hand, it has spent several years expanding a unique crowdsourcing network in which dog owners, breeders and grooming parlours around Europe send in their waste fur in return for fair payment. Up to 100% of the raw wool's value can be donated to the company's own tree project or to animal protection organisations.
On the other hand, Modus Intarsia is working intensively on the development and optimisation of technologies for processing the high-quality raw material chiengora and on the analysis of the fibres. There is strong demand for the industrial yarns which have already been developed.
As an animal-based hollow fibre, chiengora offers the perfect foundation for manufacturing a high-quality, 11-21-micron yarn which can be used in a wide variety of different textiles. Authentic sustainability is guaranteed through the new approach to raw material sourcing as well as the use of a natural fibre.
Modus Intarsia shows how traditional methods and approaches can be revamped and rethought.
The ambition of the two founders to transform their project into an innovative yarn company has been given a boost by the Exist start-up grant from the German Federal Ministry of Economic Affairs and Energy. A decision in favour of the innovative project is still pending from the European Social Innovation Competition, as well as the Federal Prize for Ecodesign.