Natural fibres are still fibres' biggest "employer"
The estimated global output of man-made fibres has been pegged at 71 million tonnes compared to 30 million tonnes of natural fibres.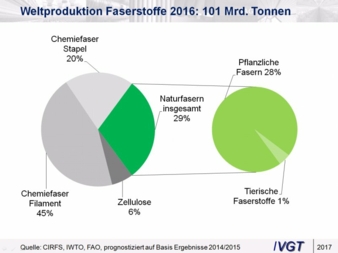 According to forecasts by CIRFS, the European man-made fibres association, the global production of man-made fibres looks set to increase further, whilst natural fibres will remain fibres' biggest "employer". At the farming level, estimated sales in 2016 amounted to around US$ 50bn.
Fuelled by the higher price of cotton and jute in 2015, output climbed by a further 8%-10% in 2016. Of all the natural fibres, cotton in particular has a reputation for consuming large volumes of water as well as the liberal use of pesticides to control the proliferation of pests. However, many of the figures available are out of date and thus fail to reflect the current situation. New varieties and modern cultivation methods have led to vast improvements on these fronts. Extensive training programmes in the producer countries are helping, above all, small farmers to gain higher yields whilst using fewer resources. The introduction of a nationwide water management system in Israel recently hit the headlines, describing the country as a "water wonder".
The Israeli water authorities launched a programme in 2008 not only to desalinate more sea water but also to locate and repair leaky pipes, install closed irrigation systems and, in collaboration with farmers, to tread new ground in cultivation. Comparing cotton yields per hectare between countries such as Mozambique with 162 kg, the USA with 912 kg, China, Turkey and Brazil with 1500 kg each, Israel has now taken the lead with 1892 kg.