27/11/2017 –
Cotton USA - "Bangladesh Cotton Day"
— auf Deutsch lesen
US looks to ramp up cotton export to Bangladesh
United States looks to increase its cotton shipment to Bangladesh by at least 10 per cent per annum.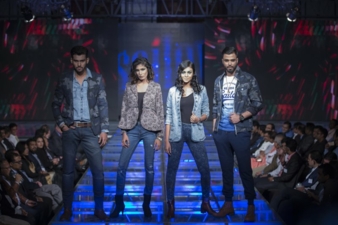 United States looks to increase its cotton shipment to Bangladesh by at least 10 per cent per annum by tapping the country's growing demand for reliable supply of quality cotton, industry leaders from the US have said recently. Simultaneously, they have called for better port facilities, infrastructure and removal of arbitrary regulatory requirements for an increased trade flow between the two countries.
600.000 bales of cotton have been imported from US to Bangladesh 2016
"Currently, the US has around 10 per cent share of Bangladesh's total cotton import and the share actually doubled from 5 per cent last year," said Bruce Atherley, who is the Executive Director of Cotton Council International, an export promotion arm of the National Cotton Council of USA.
Mr Atherley was part of a high-level delegation from the US cotton industry who visited Dhaka last week on the occasion of Bangladesh Cotton Day. During their stay in Dhaka, the US delegation also sat with the FE for an exclusive interview. "The latest figures show that around six hundred thousand bales of cotton have been imported from US to Bangladesh in last one year," Mr Atherley said.
"However, our target is to increase the US cotton export to Bangladesh by at least 10 per cent each year," he said, adding, "In such case, we would be able to export more than one million bales to this country by 2024."
Bangladesh is the largest cotton importing country
Currently, Bangladesh is the largest cotton importing country in the whole world. The country is expected to import around 7.1 million bales of cotton in 2017-18, further consolidating its position as the leading cotton importing nation.
Bangladesh is, however, heavily reliant on India for its cotton supply as around 60 per cent of the total cotton import is shipped from its neighbouring giant. Shorter lead time is often cited as a major reason for this over-dependence on Indian cotton.
In recent times, there have been calls for diversifying the sources as it is observed that New Delhi often imposes export restrictions on cotton when its domestic consumption grows up.
Industry leaders from the United States, however, noted that US cotton provides a more reliable and high quality alternative for Bangladeshi spinners. "The biggest advantage for US cotton is its lower contamination compared to other countries," Mr said Atherley.
"Fibre quality in US is also improving further with new seed varieties and production practices," noted David Camp, Vice President of Staplcotn, which is the oldest and one of the largest cotton marketing cooperatives in the United States.
Very integrated industry
"One thing that is highly notable with the Bangladesh's textile and garments industry is that it is a very integrated industry," said Richard Clarke of Cargill Cotton, one of the biggest cotton companies in the US with global presence. "Such an integrated industry needs to have a dependable supply of raw material and US is one of the few places which can ensure that," he added.
The US industry insiders noted that in most of the major apparel producing Asian countries, US has a market share ranging from 15 per cent to 40 per cent while in Bangladesh, it is still around 10 per cent.
"Even, India which is the major source of cotton in Bangladesh imports the bulk of its cotton from the US," said William R. Bettendorf, who is the Regional Director of Supply Chain Marketing for Cotton Council International. Despite its competitive advantages, the US cotton exporters noted that Bangladesh's geographical distance from the US is a major challenge for increasing trade with Bangladesh.
"One of the biggest challenges for us is geographical distance," Mr Bettendorf said. "However, this is not an unsolvable challenge," he said, adding, "Already, there are exporters from US who have come and developed relations with the Bangladeshi companies to set up regular deliveries of the US cotton."
"So, it actually depends on proper planning, proper supply chain integration and better communication," Mr Bettendorf said.
The US cotton exporters also highlight Bangladesh's infrastructure constraints as a major obstacle to boosting trade with Bangladesh.
"Particularly, congestion in the Chittagong port poses some serious challenges and there are lots of scopes for improving that," David Camp said.
The US exporters were also critical about the arbitrary regulatory requirements like phytosanitary requirements and fumigation process which, the cotton exporters have to go through in Bangladesh.
"There should be a more linear inspection process when it comes to phytosanitary requirements," David Camp said. "At the same time, if fibre sanitary inspection is done properly, there is no need for fumigation," he added.
The US delegation also noted that most of the countries that buy cotton from the US do not have any phytosanitary requirements at all. The key thing for boosting cotton trade between the two countries is to make the whole process smoother, easier and faster, US industry insiders observed.