07/10/2019 –
World Cotton Day on 7 October
— auf Deutsch lesen
WTO is organising the first international World Cotton Day
On October 7, take a particularly close look at the fibre content in your clothing. Because October 7 is World Cotton Day.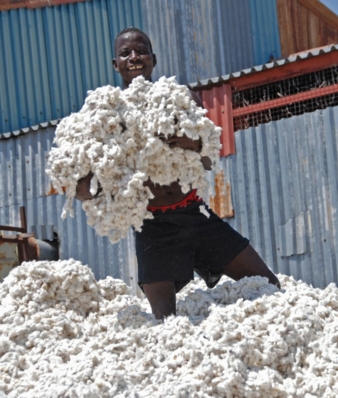 Cotton surrounds us every day
It protects us, is soft, skin-friendly and incredibly resilient. We know it as jeans, shirts, t-shirts, towels or curtains; we can even find small cotton fibres in our banknotes. And cotton is of great importance worldwide, especially for the 200 to 250m people that live from the natural fibre.
The first World Cotton Day on October 7, celebrated by the cotton industry worldwide, aims to draw attention to the significance of the raw material cotton. The World Trade Organisation (WTO) is organising World Cotton Day in collaboration with the Secretariats of the Food and Agriculture Organisation of the United Nations (FAO), the United Nations Conference on Trade and Development (UNCTAD), the International Trade Centre (ITC) and the International Cotton Advisory Committee (ICAC).
The idea stems from the official request to the General Assembly of the United Nations by the Cotton-4 for the recognition of a World Cotton Day which reflects the importance of cotton as a global resource. As one of the world's leading cotton organisations, the Bremen Cotton Exchange also supports World Cotton Day.
Jens D. Lukaczik, President of the Bremen Cotton Exchange:
"Cotton is the most important natural fibre in the textile industry, with a share of around a quarter. As a global commodity organisation responsible for fibre quality inspection and an international arbitration board, we support World Cotton Day. In addition, cotton is biodegradable. It leaves no micro plastic pollution in the sea and does not threaten the health of marine life. From an environmental point of view, cotton is also totally recommendable because it is a renewable raw material that can be produced again and again, together with other crops in crop rotation."
Vice President Stephanie Silber explains further:
"Cotton is processed completely. It is not simply a fibre that serves the textile industry; the entire plant can be used down to the last branch. The seeds are pressed to produce high-quality oil and cattle feed, while the plant branches can even be turned into furniture."