German Textile Conference
Deutsches Fachkolloquium Textil (German Textile Conference) provides impetus for the bespoke surfaces of the future.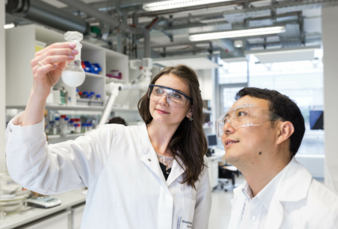 Be it aerospace, high-level sport or developments for the "Smart Home", the range of applications for high-performance textiles and their hybrid components made from plastic, metal or other materials is becoming ever more diverse. Even their surface properties can now be "composed" with great precision. New events such as the Deutsches Fachkolloquium Textil (German Textile Conference - 28/29 March 2017) are consciously seeking greater proximity to the surface finishing industry.
Using as an example a heated rotor blade from a wind turbine, Dr. Mirko Bauer of Tenowo GmbH, based in Germany's Reichenbach, will shed light on a heated textile that can be incorporated in a plastic composite. The solution, sponsored by the German Federal Ministry of Education and Research, is based on a non-woven that is printed with a conductive ink made from carbon nanotubes. It can easily be adapted to three-dimensional surfaces and included in fibre composite materials without the need for new tools. The "SmartHeatTex" is characterised by quick response times and high levels of energy efficiency. The principle on which it is based will be transferred to other fields of application such as the aviation and automotive industries.
In its new event format, the Deutsches Fachkolloquium Textil aims to provide a national stage for such specialised findings, which are often the result of developments created in a dialogue with scientific institutions. The conference at the end of March, held in conjunction with the "Aachen textile innovation day", will also benefit experts from fields such as materials science, chemical engineering, finishing and functionalisation. Prof. Dr. Martin Möller of the hosting DWI – Leibniz Institute for Interactive Materials in Aachen, points out just how diverse technical textiles have become in recent decades: "The number of people interested in this field has long since moved beyond the traditional boundaries."