H.B. Fuller: Let no man put asunder?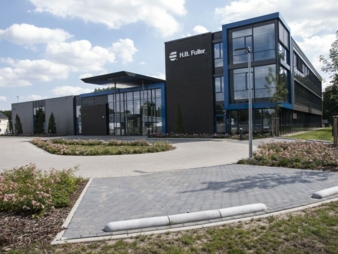 Large parts of the textile and clothing industry depend on processes for joining, attaching or bonding materials. Substrates are bonded together using adhesives or by needling, sewing, riveting or welding. The method used will determine whether these bonds are separable or inseparable: that is, whether the join can be reversed in a non-destructive manner or only through the use of force. In the above list of processes, though, there is one that can do both – adhesive technology.
In the lamination process, for example, the adhesive fuses together a textile and a film or membrane inseparably. In the making-up industry, again, outer fabrics are joined to interfacings using adhesives; this join similarly has to be irreversible. The same applies to shoe manufacture or the production of filters, since there would be no point in a sole that detached itself from the shoe or filter textiles that separated from the cartridge.
On 3 September 2015 H.B. Fuller, one of the largest adhesives specialists in the world, opened its new Technology Centre in Lüneburg. The new building houses some 200 employees, researching and developing new reversible and irreversible bonding systems for substrates. In addition, the generously proportioned building will serve as a training centre and test lab where the company's customers can carry out testing programmes under conditions representing actual practice.
Adhesives are made not only for creating lifelong bonds. Depending on their type and composition, they can also allow for the joined surfaces to be detached again, as in the case of feminine hygiene products, for example. Carefully selected adhesives make it possible to attach pantyliners to underwear and then to remove them again. The same is true of reclosable packaging. Examples such as these illustrate the versatility of adhesives, which also play an important role in the automotive industry, in wood processing and in packaging. H.B. Fuller is one of the leading manufacturers worldwide to specialise in adhesive joints.
The recently opened centre for technical excellence has grown up right alongside the production facility for adhesives that the company started in Lüneburg in the early 1970s. With an area of 2,300 m², H.B. Fuller's Lüneburg Adhesive Academy may only be the second largest establishment of its kind but it is certainly the most modern.
To make sure that the researchers are not confined to their laboratory enclave but can try out their inventions in real life scenarios, the Lüneburg Academy also includes halls containing machinery specific to particular industries. With this industry-specific equipment, the performance of their adhesive solutions can be tested under production conditions.
[Sabine Anton-Katzenbach]