ITMA 2015 – Lindauer Dornier: "green machines"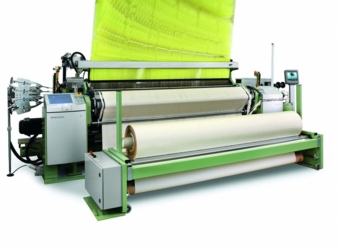 Bearing the motto "The Green Machine" the family enterprise from Lake Constance presents comprehensive solutions for sustainable technologies. The fabrics are vital for many "green technologies" in almost all sectors with products such as finest filters to purify water or air, airbags and antiballistic structures for protection of life and limb, glass or carbon fibre composites to reduce moving masses and CO2 emissions. In all these sectors the "Green Machines" are indispensable for the production of high-precision fabrics. Especially in these areas, where the highest requirements are placed on quality, Dornier weaving machines reveal their unique performance.
In addition to the focus placed on the production of technical textiles to improve sustainability, the German machine manufacturer presents newest developments for the applications home textiles, clothing and technical textiles. The highlight of the 400 m2 exhibition stand is a new generation of rapier weaving machines – the P2 – that will be revealed to the public for the first time. Further Dornier exhibits are an A1 air-jet weaving machine, and two P1 rapier weaving machines, in their latest respective versions. At Stäubli's booth an A1 Jacquard air-jet weaving machine and at Bonas's booth a P1 rapier weaving machine with a directly mounted Jacquard machine are displayed.
[ITMA 2015, hall 1 booth H102]