Light, flexible, efficient: adhesive polymer layers
INTEC Industrie-Technik and FILK Freiberg Institute have developed an innovative surface heating system for electric mobility.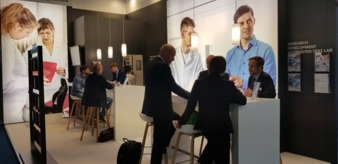 The development is based on the results of a research project that aimed to develop conductive polymer layers. The idea was to process these conductive layers, which do not require any metallic components, into technical textiles that can take on different functions, e.g. heating, cooling, lighting or sensory or actuator tasks. Depending on the application, the performance of the layers can be adjusted via the proportion of conductive components in the coating medium. The special feature of the films is their high flexibility. Therefore, they can be processed very flexibly.
Together with the development company INTEC Industrie-Technik from Munich, which operates throughout Germany in the automotive, aeronautical and marine systems sectors, these research results are now being transferred into an application. Laminated with a textile, the conductive layers are functionalised into a new surface heating system. First, a car seat of an international system supplier was equipped with the heating system. The results are promising. Solid heating times and good energy efficiency make the material ideal for use in electric mobility.
The heatable layers are produced on conventional coating lines in a roll-to-roll process, which means they can be produced as a continuous material in large quantities. The application of the electrodes to the conductive composites is also realised as a continuous process via a line-printing module, whereby the spacing of the electrodes can be individually adjusted. This would make it possible to realise countless applications in many mobility areas in the future, e.g. in aircraft construction or in medical technologies.