On the Techtextil podium – and then?
When this edition of textile network goes to print, exactly 676 days will have passed since the presentation of the Techtextil and Texprocess Innovation Awards, back in 2017.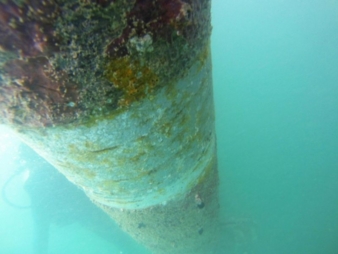 What has happened since and how have the projects been developing? textile network asked four of the twelve award winners to shed light on their progress.
Some things simply take time
This was certainly the impression given by the companies and institutes in Mühlhausen, Denkendorf, Bielefeld and Helmbrechts. In other words, the innovations that received accolades in Frankfurt/Main – among them, the saw-proof, high-textile bicycle lock from Leipzig-based start-up Texlock – are gradually making their way onto the market.
Basalt knits prevent maritime fouling
Peterseim Strickwaren, Managing Director André Niemann: The warmer and more nutritious the sea, the more quickly and profusely organic deposits make themselves at home on the hulls of ships, on buoys, pontoons and steel constructions anchored to the sea bed for landing piers, bridges, wind turbines and similar. What to the expert is known as fouling and absorbs huge sums in maintenance costs around the world, is an innovative challenge for a company like Peterseim which is looking to add another string to its bow. The Mühlhausen-based manufacturer of high-end knitted goods asked itself whether submerged steel components and surfaces could be permanently protected from shells, algae and the like by encasing them in a basalt knitted cover.
Seal knit
This marked the beginning of the SEAL knit, a natural fabric product, which was presented with the Techtextil award in 2017 and has since triggered widespread interest and serious enquiries, particularly from outside Europe.
Around six months ago in 2018, a test installation was put in place at a landing pier in Dubai, where the fabric cover has been performing well (photo): On and under the basalt knit, which has antibacterial and antimicrobial properties, growth is marginal compared to the unprotected steel girders next to it. Were the girders to be wrapped entirely in SEAL, the intervals between maintenance procedures could be minimised and conventional protection methods using synthetic materials avoided.
Trial and error
Through trial and error, the researchers have made several new findings regarding both the product and its applications (they have found, for example, that the anti-fouling knits fit snugly around the surface and, therefore, need to be tailormade to fit the exact geometry). In response, Peterseim is setting up additional test installations, among others, in Panama and Singapore, all with a view to tapping into future business opportunities. Plans may also be in the pipeline for fouling protection on desalination plants and fire extinguishing equipment in ports. At the same time, the fixtures for the maritime knitted covers are likewise being enhanced to ensure they can withstand the heaviest of seas.
Read more in our print edition textile network 3-4/2019 with publication date March 16, 2019.