Schoeller Fabric Collection Winter 2017/18 – Focus Outdoor
Highly-elastic black denims for individualised washed-out effects, exciting wool fabrics or wool-optics with function features, a new saltwater membrane and temperature-regulating soft-shells are among the highlights of the Schoeller Winter Collection 2017/18. Developed and produced amidst the Swiss mountains, innovation and ecology have always played a major role in Schoeller textiles.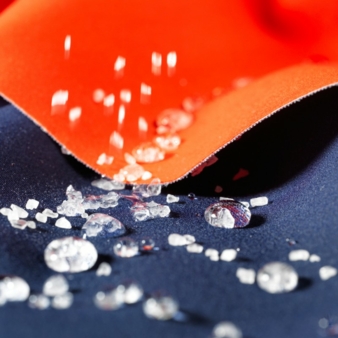 BLACK DENIM
In addition to the tried and true indigo blue denims, sporty black denims are also now enhancing the Schoeller collection for winter 2017/18. They are ideal for individualised washed-out effects and promise lasting high-performance comfort for the mountains or city. Feeling good is what it's all about in the casual functional schoeller-shape synthetic fabrics with the denim finish, sustainably produced in Switzerland. An important factor in all these fabrics: in order to achieve the unique look, they must be subjected to a professional jeans washing after being made up, which can also add a water-resistant effect.
FUNCTIONAL WOOL
Natural fibres and natural functions also play an important role in the current Schoeller collection. The cork-based corkshell technology, for example, provides natural heat insulation in the compact schoeller-WB-400-wool fabric with loden look in navy blue, olive or stone grey, while at the same time offering a high level of breathability and outstanding clothing comfort. Different herringbone interpretations in wool or wool look ensure excellent wind and weather protection and a personal feel-good climate thanks to the c_change membrane or 3XDRY technology, in earthy shades of brown and grey.
SALTWATER MEMBRANE
For all sailing fans, sea anglers and stand up paddlers Schoeller is now presenting very special saltwater-resistant schoeller-WB- formula fabrics. In a maritime colour combination such as dark blue and cream ripstop, or in a smooth, more feminine version in silver grey or hollyhock red, this fabric functions in every kind of waters. Not only in the sea are you ideally dressed, but also in fresh water or chlorinated water too. This sturdy tear-resistant, multi-talent is a reliable companion.
WARM SOFT-SHELLS
Exciting structures on the front or reverse draw all eyes to the pleasantly-soft, bonded schoeller-WB-400 soft-shells. They are warming, breathable, extremely hard wearing and dirt repelling – whether with a horizontal zigzag structure on an elegant e3 ski pants quality, or as a white honeycomb look on the inside of the light all-round fabric in light blue or ochre. Also ideal for winter sports are the similarly temperature-regulating warm fabrics with schoeller PCM – either in a matt schoeller-WB-400 twill quality or as a schoeller-WB-formula version with the additional c_change climate membrane. Lots of scope for individual looks is also provided by the ready-for-print soft-shell qualities in three different weights.
COSY ESCHLER A SCHOELLER BRAND
While checks continue to have a firm place in the shirt collection in winter 2017/18, they are now joined by a casual denim print. Further print designs, all available in a range of colour combinations, look just as good in mountain sports shirts as they do worn for an after-work drink. The pleasantly soft, light e2 polyester qualities with an antibacterial freshness finish are also available to match in a variety of plain colours or with a melange effect.
LIGHT PROTECTION
The sporty group of ultra lightweights with wind and water protection also includes the new e3- Gamex* polyester qualities in plain colours or various check designs. Ideal for bike jackets with small packing volume, they also delight the wearer with natural stretch and a high level of breathability. A further knitwear classic is also presenting itself in a new look: The e1-Flash** textiles with sturdy, abrasion-resistant polyamide outer side and a structured polyester reverse with wavy, diamonds, honeycomb or stripe design ensure outstanding perspiration transport when running or cycling.
* Gamex by schoeller knitted textiles owe their function to a special combination of chemical finishing with a mechanical compactation process. This produces supple yet compact knitted textiles that combine optimum breathability with outstanding wind and weather protection. ** The Flash by schoeller fabrics are a group of highly-elastic knitted textiles offering premium moisture management and very good drying properties.