11/11/2019 –
Textile industry opts for high-tech motors
— auf Deutsch lesen
Faulhaber – Specialising in drive systems
The manufacture of technical textiles requires motors that are designed for specific processes and are easy to integrate.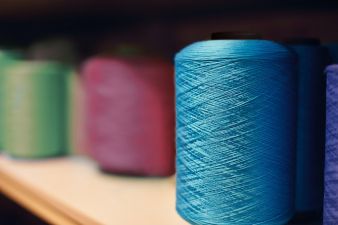 Compact motors are widely used in this field, for example, in the winding of yarns, the controlling of yarn tension on knitting machines and the automatic attaching of buttons. To complete these tasks effectively, they must be able to operate at speed, respond quickly, whilst also being dynamic, reliable and long-lasting.
High-speed winding of yarn rolls
Yarn production is a complex process. In the spinning mill, the yarns made from raw fibres are initially wound onto large reels and then unwound and rewound for practically every subsequent process. The finished product is then rewound again onto smaller reels that a weaving loom, for example, can process. Mechanical winding is performed at extremely high speeds. The guide eyelet moves back and forth about 400 times per minute, processing some 1500 metres of yarn. There must be no delay when changing direction. The motor that is responsible for the rapid oscillation must be able to handle the quick change of direction without delay while maintaining the same speed.
Disc magnet motors for quick changes in direction
Disc magnet motors, such as the DM52 from drive systems specialist Faulhaber, have proven an ideal solution for this task. These drives were developed for applications that require fast acceleration and/or quick changes in direction. They are easy to integrate on account of their short length and low weight. Thanks to their high speed and micro-stepping operation, they are perfect for high-precision positioning applications and have already proven their durability and reliability in many areas.
The rotor of this drive consists of a thin rare-earth magnet disc, magnetised with 25 pole pairs. The disc runs between two stators with the correspondingly arranged windings. Because it is extremely light, the rotor inertia is very close to the attainable minimum. This allows the motor to change direction in about five milliseconds at full speed, thereby making the lightning fast back-and-forth movement possible during yarn guiding.
Constant yarn tension on knitting machines
Mechanical knitting requires precision yarn feeding and it is essential that the yarn is kept under constant tension. On knitting machines, this task is performed by the feeder or feedwheel unit, located just in front of the knitting systems. A specific amount of yarn is wound onto its roller, which serves as the buffer. Its mechanics respond to fluctuations in the yarn tension and compensate for them through various motorised movements. The movements do not need to be performed here as quickly as in yarn winding. What is more important is the rapid reaction of the drive and the fine dosing of the motor power. In addition, the available space is very limited and, of course, the motors must not determine the maintenance cycles – as a result, longevity has top priority.
Depending on the machine design, this task can be carried out by various motors from Faulhaber, such as the DC micromotors with graphite commutation which, with diameters of just 17, 22 or 23mm, are particularly lightweight and compact.
Their construction as bell-type armature motors with a patented, self-supporting coreless skew-wound design, rotating around a resting magnet, means that almost the entire motor diameter can be used for electric winding. As a result, relative to their size and weight, these motors achieve higher speeds and torques than conventional designs. Depending on the model, the small motors can achieve torques up to 20 mNm.
The term "graphite commutation" refers to the brush material used in conjunction with a commutator which is made from a copper alloy. This commutation system is very robust and is ideal for dynamic, high-performance applications requiring rapid start-stop operations, as is the case with the feeders on knitting machines.
Comprehensive portfolio
Faulhaber's extensive portfolio contains a suitable motor solution for all textile applications. If, for example, the application requires high torque combined with a short length, the flat, brushless DC motors from the BXT family are often the best motors for the job. Thanks to innovative winding technology and an enhanced design, the motors are only 14, 16 and 21 mm in length, but are capable of delivering torques up to 134 Nm within a diameter of 22 mm, 32 mm and 42 mm respectively. They are designed for a continuous output power up to 100 W and thus significantly exceed benchmarks in this class of drives, particularly with respect to the ratio of torque to length, volume and weight, which benefits applications where space is at a premium.
Dipl.-Ing. (BA) Andreas Seegen, Head of Marketing, Faulhaber; Ellen-Christine Reiff, Redaktionsbüro Stutensee