10/07/2019 –
ITMA 2019: Sensient Imaging Technologies
— auf Deutsch lesen
Sustainable Printing
A safer and more sustainable future for the textiles industry: new innovative digital inkjet technology .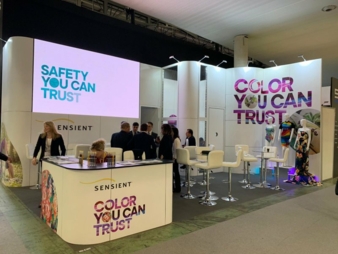 At this year ITMA 2019 in Barcelona Sensient highlighted its new water-based sublimation ink ElvaJet Coral, which has been developed to reduce water usage, without compromising on quality or color. Vast amounts of energy and water are used during the production of textiles, and with the industry under pressure to improve its environmental credentials, there is a growing demand for solutions that help manufacturers and brands reduce the water footprint of their processes and products.
The latest addition to Sensient's portfolio of sublimation inks, ElvaJet Coral, is a high-performance ink for direct printing onto polyester fabrics commonly used in sport and apparel applications. ElvaJet Coral offers an environmentally low impact solution for textiles by printing directly onto the substrate, removing the waste from transfer paper and residual ink. Tests have shown that the ink can reduce CO2 emissions by up to 90 percent, and overall energy use by up to 60 percent.
When it comes to reducing water usage, ElvaJet Coral requires just one liter of water compared to the 50 liters required for direct disperse printing. Sensient's unique dispersion technology was harnessed during the development of the ink to deliver improvements in color, sharpness, stability and performance. ElvaJet Coral has been formulated to include color-free materials to remove the risk of staining when wet. The ink also demonstrates excellent stability over long production runs, minimal maintenance and an increased open time of more than an hour, helping to streamline the production process and eliminate downtime.
Other water-based inks including Xennia Amethyst, Xennia Agate and ElvaJet Opal were also be featured at the show, demonstrated the full range of solutions available from Sensient that deliver improved sustainability, quality and performance for the textiles industry.
Jérôme Jeanneret, Managing Director at Sensient Imaging Technologies:
"With our expert understanding of the chemistry of color, the textiles industry can trust Sensient to deliver digital inkjet solutions that are environmentally responsible, high-performance, safe, protect the integrity of their brand and ultimately add value to their business. Having listened to the needs of our customers, our latest inks have been developed to address the need to reduce the use of chemicals, energy and water in the textiles printing process."