30/07/2019 –
3D knitted seat with integral upholstery
— auf Deutsch lesen
Techtextil: 3D innovation from Bache Innovative
Seamless products, 3D knitwear and the development and production of technical knitwear are the specialities of this innovative company from Rheinberg, Germany.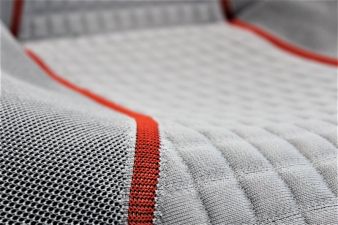 Bache Innovative appeared as an exhibitor at Techtextil for the first time in 2019 displaying, alongside various technical knitted products from a range of different fields, an innovative 3D knitted seat with integral upholstery.
Director Thorsten Bache:
"The field of technical knitted goods has been growing steadily for us in recent years, and flat-knitting technology in particular, with its versatility in terms of shape and pattern, has enormous potential here," . "At the fair we made a large number of new contacts and held some interesting discussions. Our 3D knitted seat provided the stimulus for some exciting future projects."
The special feature of the 3D seat cover
What is special about the seat is the combination of different structures and approaches used, including mesh structures and intarsia techniques, as well as weft insertion. Weft insertion uses a combination of knitting and weaving techniques; a polyamide filling thread is inserted between two knitted layers and this can be used to upholster specific areas. By positioning the mesh precisely, moreover, quilting seams can be accurately knitted in for visual effect. As well as the insertion of filling threads, the process also allows electrically conductive threads to be inserted, which are insulated by the two knitted layers from contact with the skin.
Sandwiched copper yarn
With this innovation from Bache Innovative, not only the upholstery but also an integrated seat heating system can be knitted into the seat cover for use in the automotive, mobility and interior design sectors. In addition to opening up a wide range of design options and combining different haptic and optical effects, the 3D knitting technology provides the additional benefit of being one of the most sustainable production processes.
Zero waste principle
The fully fashioned knitted structure is uninterrupted by seams and fully conforms to the zero-waste principle, since it precludes the need for cutting and, to a large extent, making up. "Minimising the number of work steps guarantees the best possible production processes and handling times," says Thorsten Bache, "and allows us to use a production site in Germany and Europe – which in turn means we can continue to guarantee that our products are 100 percent 'made in Germany'."
Bache Innovative
Bache Innovative, based in Rheinberg, emerged from the family business Strick Bache, founded in 1927 and now in its fourth generation. The company is equipped with more than 20 flat knitting machines from Stoll and Shima Seiki, using the latest technology and with various gauges; it also has making-up and finishing facilities and offers individually tailored complete solutions in the field of flat knitting. The company exploits the benefits of flat knitting, so its portfolio is concentrated on the manufacture of seamless products and 3D knitted products, and on the development and production of technical knitwear. Its innovative strength lies in the development team, consisting of trained textile engineers who use their long experience and well-founded technical knowledge to drive research and development in the field of flat knitting.