Allergen-free textiles
Devan Chemicals has launched a natural technology to reduce pet allergens in textiles.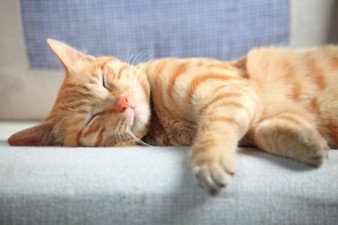 Devan Chemicals, a textile finishing innovator, has launched a technology known as Purissimo, which is designed to free textiles from allergens spread by cats and dogs. The natural probiotic solution was inspired by Purotex, an allergen-reducing solution which has successfully been used for bedding for more than 10 years.
In recent decades, pets have rapidly climbed the social ladder, advancing from outdoor protectors of the home to well-integrated family members. In Germany, 21 percent of all households own a dog, whilst 29 percent have a cat. In the past ten years alone, the number of people displaying a hypersensitivity to inhaled allergens has increased in Germany from 29.8 percent to 33.6 percent. Currently almost 20 percent of all adults there suffer from at least one allergy.
Researchers believe that the increase in pet allergies may partly stem from the ever closer contact between humans and pets and the resulting rise in allergens.
Following several months of tests, Devan has found a solution to combat allergies triggered by pets such as cats (cat allergen Fel d1) and dogs (dog allergen Can f1). The test results revealed a significant 92.8 percent reduction in the cat hair allergen Fel d1 in the samples treated with Purissimo. The technology is based on probiotic bacteria and is, therefore, completely natural.