30/01/2020 –
ISO certified energy management system
— auf Deutsch lesen
Carrington Textiles: Pincroft finishing facility awarded ISO 50001
Carrington Textiles is pleased to announce the successful certification of the energy management system at its biggest finishing facility, Pincroft.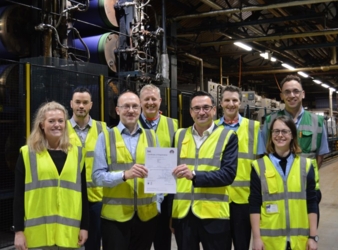 The ISO 50001 standard helps companies determine areas where they can save energy, thus minimising their carbon footprint and doing their bit to curb global warming. In the manufacture of high-performance and durable textiles, energy is an essential resource which is needed in every step of the process.
Carrington Textiles has adopted a comprehensive sustainability policy and is committed to a more efficient and responsible use of energy. Its biggest finishing facility, Pincroft Dyeing and Printing, has just been awarded ISO 50001 for its energy management system.
In total, the company now boasts four certified management systems for efficient and sustainable organisation and processes: ISO 50001, OHSAS 18001, ISO 9001 and ISO 14001.
Green light for energy-saving projects
The international standard enables Pincroft to continually evaluate its energy consumption, implement energy-saving measures and be more efficient in its energy use. This allows the company to cut down on resources and limit its greenhouse gas (CO2) emissions. Switching to LED lighting throughout the plant has already reduced energy consumption by 40 percent. Additionally, all machinery has been equipped with sensors and a cloud-based analysis tool to gather and evaluate data, on the basis of which energy use can be optimised. Finally, the company draws its energy supply exclusively from renewable sources.
Energy-conscious operation
To achieve ISO 50001, the company put together a dedicated team responsible for every step from implementation to certification of the energy management system. The team also trains and educates staff on energy-relevant issues.
Andrew Meacher, Group SHEQ Manager and in charge of safety, health, environment and quality:
"Our in-house team has worked hard to make us more environmentally-friendly and energy-efficient. We're very proud that our efforts have been recognised with this certification. This is only the beginning, however. Soon we will re-evaluate our plant to identify even more ways to reduce our CO2 footprint."