Clear the stage for nonwoven innovations
Comfort, protection, sustainability—Sandler helps to fulfil what users ask of hygiene products and wipes today.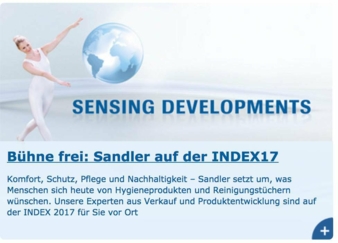 For 30 years, Sandler nonwovens have been applied in the hygiene industry—whenever products are touching people closely. On occasion of the world's leading exhibition for nonwovens in the hygiene sector Sandler will bridge the gap between people and technology. Every human being is unique; every one of us has various needs. Modern hygiene products support our individual lifestyles. Innovative Sandler nonwovens for hygiene products and wipes as well as a new, multimedia booth design reflect this uniqueness. Experience the fascination with nonwovens through our new image trailer and take a stroll down the "catwalk" of innovations.
Comfort & safety with latest Sandler developments for the hygiene products
"Stretch your limits"—is the motto for the elastic applications. Manufacturers are provided with an assembly kit of materials featuring different degrees of elongation to choose the ideal nonwoven for their respective use. From "basic stretch" to "premium stretch plus" it holds the right product for everyone. These nonwovens support an optimum fit, thus increasing wearing comfort.
Comfort is also the watchword when it comes to innovations for topsheets: A new design for these materials visually provides a sense of lightness in daily hygiene: Subtle butterflies make this product a veritable eye-catcher.
A new "canyon" structure for topsheet materials combines visual differentiation and optimised functionality: This special surface renders the topsheet bulkier and even softer; increases stability, and simultaneously supports fluid handling.
A quickly transport fluid away from the body
Sandler' new nonwovens for intake layers take this function one step further. They quickly transport fluid away from the body and efficiently distribute it onto the entire surface, for optimal utilization of the core's storage capacity. The nonwovens also function as an interim storage layers, preventing rewet and protecting the skin. Sandler designs these nonwovens in line with the product requirements: Softness and flexibility can be individually adjusted; embossing designs provide visual highlights.
The latest development for soft topsheets proves that hygiene products do not only enhance the user's comfort: These nonwovens are made from the lactic-acid-based polymer PLA—natural raw materials for sustainable product solutions.
Function & performance offered by new wipes substrates
With sawatex classy silk and sawatex lace-o-paque Sandler will showcase wipes substrates which add that certain something to cosmetics applications and babycare.
sawatex classy silk features excellent cleaning efficiency and above all an extraordinarily silky touch, rendering every use into a wellness-treatment.
sawatex lace-o-paque will win over with its softness and high bulk, offering gentle care for little explorers. The new embossing design "square" captures the attention of another market segment: Small squares render the substrate bulkier and increase its surface—for even better results in cleaning applications.
With a "double action" substrate for cleaning wipes Sandler gets to grips with stubborn dirt. The multi-layer nonwoven features a coarser side for efficient cleaning and a smooth side for gentle polishing and grooming the cleaned surface.
All of these nonwoven substrates receive their particular properties from the special fibre blends used. Selected raw materials bring about not only excellent functionality, but also enable a reduction of the basis weights—for less raw material usage. Embossed motifs for visual individualisation of your wipes also more detailed.
Sandler's range of nonwovens for disinfection wipes now encompasses an additional highlight: Coloured product variants in various pastel shades enable a visual differentiation of various application areas.
Rounding off Sandler's trade fair participation, nonwoven innovations for technical applications will also be showcased—for the transportation industry, the filtration sector and the construction industry.
Index 2017, the world's leading nonwovens exhibition, will take place in Geneva, Switzerland from 4 to April 2017.