Mattes & Ammann love mattresses
Mattes & Ammann (M&A), a textile company based in the hills of the Swabian Jura in southwestern Germany, has been making high-quality mattress fabrics for over 40 years.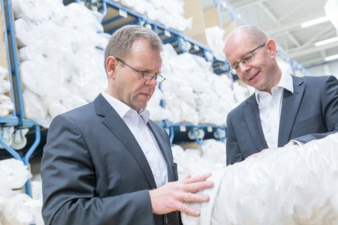 There was a time when the three-part mattress was still made with horsehair. That was just 60 years ago. Nowadays we sleep on truly high-tech mattresses in which animal hair is rarely to be found. Family company M&A is playing a leading role in setting the direction of the international home textiles industry. The company produced nearly 55m sqm of knitted fabric in 2018 alone – all of it at Messtetten, in the hills of the Swabian Jura. The town lies at a height of 800m, halfway between Tübingen and Lake Constance in southwestern Germany. With a workforce of nearly 280, the textile company has survived the transformation of an entire region that was once the centre of textile production. Today, only the strongest survive; but they are showing the way forward to the entire industry.
Antique and ultra-modern
A global player set among seven hills, M&A concentrated originally on textiles for clothing but switched at the end of the 1980s. "At that time, we started producing tubular textiles for mattresses, making circular knitted goods with a 90 cm width," explains Eberhard Keinath, Manager of the Home Textiles division. At that time, the company used the width of the knitted fabric for the length of the mattress, delivered as a continuous roll and ready for making up. Five machines were available for manufacturing. In the production halls today, more than 500 automated large-diameter and regular circular knitting machines and warp-knitting machines are at work. Every five to six years, the machine fleet is extended further to satisfy the requirements of the market.
Customers worldwide
"We're operating a global business here," says Keinath. "Sometimes we'll be taking brightly coloured cotton from South America, knitting it into mattress fabric and supplying that in turn to Los Angeles." The company delivers all across Germany and Central Europe but also to America – it has even supplied to Australia. With the nearest motorway only 30 km from company HQ, lorries can get to anywhere in Europe within 48 hours. In the meantime, 17m sqm of textiles in the warehouse alone are awaiting orders. For customers, that is worth its weight in gold. M&A stocks finished textiles – an immense benefit for countless customers worldwide.
Quality meets creativity
Another benefit is the zero-error target, which is more than just empty words. Whether it's in the home textiles division or any of the company's twelve other business divisions, just five Master Knitters coordinate the operation and turn the creative designs into reality. "Our collections are called 'Fabric Vision' and appear two or three times a year, with eight to ten designs in each," explains Keinath. Customers appreciate the clear regularity of this arrangement. There are 8,000 designs for mattresses alone, and 60,000 in total. No other business in the sector has so many different designs. It's the ultimate in creativity.
All's well that ends well
Skills, logistics and creativity are one thing; the challenges of an ever-changing industry are something else. "In the future, the winner won't be the one who can produce 300,000 metres at a good price, but the one who can deliver the newly ordered 1,000 metres by tomorrow." And that's something the Swabian company can do. And their mattress textiles end up in hotels and hospitals, care homes and private bedrooms – not to mention penal institutions, cruise ships, naval frigates and even the mega-yacht belonging to Russian oligarch Roman Abramovich. At the end of the production chain, there are 18 in-house devices that test the finished mattress fabric. These include no fewer than four strain testing devices, a combustion chamber, the Martindale rub test device, a thermal comfort chamber, the crockmeter, a Macbeth for technical light testing, and more. M&A are real professionals in home textiles, with a resolute will to add a top-quality cover to the feather or foam core, with no exceptions. And they have been doing so for decades.