Techtextil 2017: Forster Rohner Textile Innovations
"For our international customer base we develop and produce technical textiles based on the highly sophisticated capabilities of modern embroidery techniques."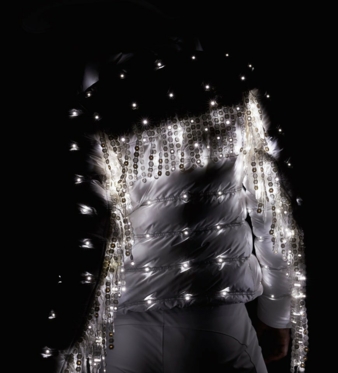 The core competencies lie in the robust and flexible interconnection of electronic components on fabrics, the development of miniaturized electronic components and their textile integration as well as the combination of functional and aesthetic embroideries. Based on a broad portfolio of conductive materials Forster Rohner Textile Innovations produces textile structures for sensor, heating or antenna applications. With the proprietary e-broidery technology they create a unique blend of light and textile. From prototyping to serial production.
Light enchantment with textiles
With e-broidery curtains every turns to be a sunny day and every night sky becomes a starry sky. Let your curtains shine and entrust the dance of light to the free flowing movement of the fabric.
Small and light weight electronic components, hidden in the seam, are the secret of this new product experience. Starting from one meter e-broidery LED-textiles can be customized in lighting design, dimension, confection style and power connection. This individual e-broidery curtain is produced in St.Gallen, Switzerland
Forster Rohner Textile Innovations at the Techtextil
Hall 6.1 Booth B09.