Veit Group: Using steam
Materials often contract during ironing. The fit and dimensional accuracy are lost during processing and end-finishing. Non-iron articles, such as underwear, are at risk of shrinkage after the first few washes. At this year's Texprocess in Frankfurt, Veit presented an ingenious solution to this problem: Steaming the material during the automatic spreading and folding process.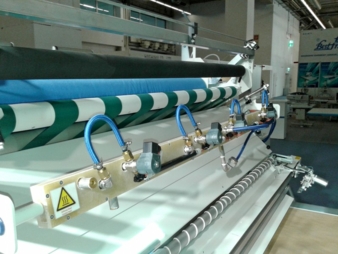 When processing bi-elastic articles, producers are constantly faced with challenges in the areas of quality and fit. The aspects of dimensional accuracy and fit are significant factors in terms of quality. In order to ensure dimensional accuracy, many materials used in production are pre-treated in elaborate ways. In the majority of cases, even the raw material on the bale is under an undesirable amount of tension.
Previously, attempts have been made to reduce and minimise this tension through a range of different processing steps. In most cases, production stages upstream of folding require an additional processing step, additional equipment, as well as more manpower to operate it. Producers who are reluctant to make these additional investments relax the processed material manually and spread and fold it by hand.
This is a very slow, time-consuming and less productive way of doing things. Shortly after cutting, elastic products contract by a certain percentage due to the pre-existing, internal tension within the raw material. This effect is amplified during the additional processing of these articles, such as during product handling or even during subsequent processing/final pressing.
With its new processing technology, Veit has been successful in cutting out a hitherto necessary processing step (requiring additional operating personnel, additional space, and additional investment), whilst raising the quality of the final product. The customers who have so far been introduced to the product already appear to be fully won over by it. Finally, steaming during the folding process represents a highly cost-effective and resource-efficient alternative that counters the effects of material contraction.
The product is laid into layers from the roll and is treated with steam during unwinding. After a short resting period, the material has been sufficiently relaxed, largely avoiding subsequent contraction. In comparison to the alternative manual and mechanical methods currently available on the market, this solution from Veit offers a very short amortisation period of no more than 1.5 years.
The presented solution of steaming the raw materials during the folding process ensures that, after folding, the material relaxes, is stabilised, and, after just a short resting period, is sufficiently relaxed to largely prevent subsequent contraction. An electric steam generator, specially developed by Veit, is attached to the folding machinery and travels with it during the process.
Using a so-called "steam lance" and steam jets, steam is distributed evenly and free from condensation across the entire fabric surface. Individual sections of the lance can be switched on and off so that different material widths can be processed. The control technology ensures that the lance only applies steam to the material during the spreading/folding process.
As the material no longer contracts, this has a positive effect on subsequent, additional processes, such as reductions in material usage. The amount of extra, buffer material required can be reduced and patterns can be optimised. Fewer waste cuttings are produced and material utilisation is improved. Due to the steaming of the material, the stitching becomes more flexible and is less likely to be damaged. The reduction of needle cuts is an important quality factor in underwear.
The steam treatment also significantly decreases static charge. As the material is smoother following the treatment, the amount of effort required during end-finishing is also reduced.
Alongside these time savings, productivity also rises as manual folding is no longer necessary and mechanical folding is considerably more productive – a two to three times increase in production is possible. Last but not least, the materials' resting periods are minimised, allowing short-notice orders to be completed more quickly – this innovation from Veit can therefore also result in reduced lead times.
Veit is known for its high level of expertise in steam applications. This, as well as their expert knowledge of tunnel finishers, has been put to use in their new steaming equipment for folding processes. This solution will now primarily be marketed through manufacturers of folding technology as a piece of integrated, additional equipment. Bullmer is already offering the solution, while other manufacturers are in negotiations. Additionally, Veit is offering customers the possibility of individual product tests.
[ www.veit.de]