Comeback in the USA
These days, we generally associate the manufacture of textiles with countries like China, India, Turkey, Bangladesh and even Vietnam and Cambodia. And yet, textile production in the USA is quietly experiencing an unobtrusive comeback. Quo vadis, America's textile and apparel industry?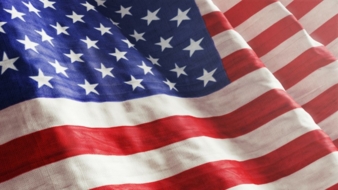 Ever since the recession in 2008, reducing unemployment has been a high priority for the Obama administration, whose strategy is to revive the country's processing industry. The US textile industry has also challenged the government to turn the USA into a more attractive production location. In mid-March, the Obama administration announced its intention to invest US$ 150m in a new competition initiative to stimulate innovation in textiles production. This, the 9th textile innovation competition targets companies, universities and non-profit organisations and is designed to ensure that the USA remains a "leading force in the field of fibre science". The Obama administration is contributing US$ 75m to the scheme, with the remaining US$ 75m coming from private enterprise. The money will be channelled into research, the development of prototypes and the commercialisation of a fibre with "unusual characteristics".
In the period from 1997 to 2009, around 650 textiles factories went to the wall in the USA. This demise triggered thousands of job losses, as revealed by the umbrella organisation National Council of Textile Organizations (NCTO). A recent statement from the White House notes: "After a steady decline in the USA in the early 2000s, America's textile industry has started to create jobs again for the first time in two decades. Since the recession, the industry has seen deliveries increase by almost a fifth, resulting in global profits fuelled by a 45 per cent rise in exports since 2009." This allocation of funding is hoped to lay the foundations for America to assume a leading role in the production of advanced fibres and textile technologies of the future.
Figures released by the US Department of Labor show that employment in the country's textiles factories rose to 233,900 in February of this year, up from 230,700 a year ago. According to the NCTO, 65 textile industry projects worth more than US$ 1.39bn are being set up, including 32 projects worth US$ 999m in the states of Georgia and North Carolina alone.
The initial response from America's politicians has been positive. Congressman David Price from Chapel Hill believes that the American textile industry is witnessing a "small comeback" and is now creating jobs in the sector after two very challenging decades. The general mood within the industry is one of confidence. DAK Americas, based in Charlotte, North Carolina, for example, has set its sights on increasing its annual production capacity by 55 million pounds (approx. 25 million kg) for polyester spun fibres (PSF) at its Cooper River facility near Charleston, South Carolina. On completion of the expansion project, DAK will have a total annual capacity of 500 million pounds (approx. 227 million kg) for PSF in the NAFTA region (North American Free Trade Agreement). Other enterprises such as Pharr Yarns LLC from McAdenville, North Carolina and polyester fibre maker PolyTech Fibers LLC in Georgia are looking to invest in modernising and expanding their production facilities.
This also applies to apparel companies such as Vapor Apparel in South Carolina which has a new facility in the pipeline in Union, South Carolina costing US$ 1.3m. The new facility will complement the existing one in North Charleston. Jackson Burnette, President of Vapor Apparel, sees it as "a great honour" to be able to restore jobs in the field of textile production in South Carolina. French company Chomarat recently announced the inauguration of a new factory for the manufacture of technical textiles and composites using Liba Max5100 machinery. Representatives of Chomarat say that the factory is aiming to promote the latest innovations and the development of new partnerships in the North American market.
In a move to attract investment in the textiles field, the States in the South are offering companies tax breaks, modern transportation routes, and a skilled workforce. Brazil, Canada, China, the UAE, the UK, India, Israel, Japan, South Korea, Mexico and Switzerland already have plans to build or expand existing textiles factories in the US States of Georgia, Louisiana, North Carolina, South Carolina, Tennessee and Virginia. Set against this promising backdrop, the mood in the US textile industry is far more upbeat than it was 20 years ago when textile production nosedived because of cheaper labour costs abroad compared to the USA.
Rising wages in China and other low-cost countries coupled with high transport costs and tariffs have prompted some companies to return to the US. This development is being buoyed by the new awareness among American consumers of the "Made in the USA" brand which has experienced a significant surge in demand. Two years ago, Wal-Mart announced its intention to purchase US$ 50bn worth of American-made products over the next ten years. Economic recovery, reducing unemployment and the prospect of rising profitability are fuelling general confidence among textile manufacturers. The textiles industry has become more productive (even though automation and increased productivity have brought about the loss of more than 200,000 jobs in the past ten years) and is eager to exploit the trade advantages offered by the Central American Free Trade Agreement (CAFTA).
The export-led industry is developing strategies to profit from globalised production platforms and new technologies. "Our textile exports have grown considerably since the industry started focusing on productivity," states John Harris, Analyst at an international bank in New York. The majority of textiles and apparel exports from the USA are destined for countries in the western hemisphere - within the free trade zones of NAFTA and CAFTA. That said, the industry has also asserted itself outside the NAFTA and CAFTA regions.
The USA's main textiles exports include, among others, yarn, fabrics, apparel and ready-to-wear goods; apparel exports, however, have struggled to keep pace with textiles exports. Yarns made in the USA are in great demand globally, even beyond the western hemisphere, with Asia and above all China emerging as important buyers of American yarn. Many companies are very much looking forward to the Techtextil North America trade fair, which is taking place together with JEC Americas from 2-4 June 2015 in Houston, Texas.
"Houston is an ideal location for this event because the city has a dynamic business environment, particularly in sectors such as energy, aviation, medicine and other important processing fields, which are equally of great importance for the technical textiles industry," states Dennis Smith, President of trade fair organiser Messe Frankfurt USA. The combined staging of Techtextil and JEC forms part of an initiative that aims at co-organising events in an attempt to offer maximum synergies to all participants.
The textiles industry in South America in general and Brazil and Argentina in particular is poised to "take off", as Rudolfo Martinez, a New York-based importer, puts it. Martinez, who frequently visits Latin America with a view to importing textiles and apparel, is "impressed" with Emitex, which has been taken over together with the Simatex and Confemaq events by Messe Frankfurt Argentina. Together, the three trade shows cover most areas of the textiles, apparel and textile machinery industries. Emitex is being organised in Argentina's capital Buenos Aires from 12-14 May 2015 by the Mundo Textil Magazine and HS Eventos.
According to Messe Frankfurt Argentina, Emitex, Simatex and Confemaq are the major international events for the textile and apparel industry in South America. Suppliers of fashionable textiles, fabrics, yarns, trimmings and accessories of all kinds are keen to show their products there. Argentina's Ministry for Industry states that the country's textiles and apparel industry has "great potential for growth". Even in the last ten years, these industries have reportedly grown by 70 per cent or roughly 5.5% annually. The lion's share of textiles and apparel exports went to Brazil, Uruguay and Chile. By contrast, Argentina imported products from China and Brazil. The Ministry pegs Argentina's textile and apparel output at around US$ 8bn. Textile production is considered an important business factor in Argentina, creating 45,000 jobs over the last ten years.
[Manik Mehta]