New sustainable threads
Madeira is showcasing its commitment to the environment with the launch of Madeira Green and the introduction of two new sustainable threads.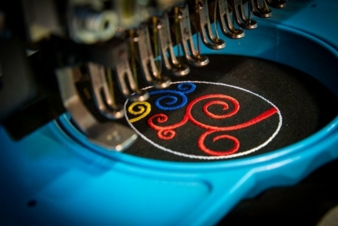 The new label Madeira Green is the response to a growing demand for eco-friendly products. By introducing two new premium embroidery threads into the portfolio, Madeira underlines its commitment to support resource-saving textile manufacturing.
Available since summer 2021, Polyneon Green and Sensa Green are ideal for use in projects requiring any standard 40 weight thread. Created using processes designed to reduce energy input and water usage, minimise waste and recycle or biodegrade wherever possible, they are the first in a line of truly eco-friendly products with more currently in development.
Polyneon Green: 100% recycled polyester
A strong, shiny thread made of 100% recycled polyester, Polyneon Green is planned in 108 brilliant colours, 100 of which are already available. Derived from post-consumer waste, the standard weight 40 thread provides high-quality industrial embroideries and can be used for workwear, sportswear, jeans, shoes, and many more projects. Meeting the Standard 100 by Oeko-Tex Class I, annex 6, Polyneon Green reduces waste by reusing plastic bottles, melted down and spun into a strong, trilobal thread matching the renowned genuine Polyneon quality.
Sensa Green: 100% Tencel Lyocell
Sensationally soft, Sensa Green is a natural innovation. Made of 100% Tencel Lyocell fibres, it is the first Lyocell embroidery thread available in 144 beautiful shades with a unique look and highly soft touch. The Tencel Lyocell fibres are made of sustainable wood and pulp from renewable forest sources. They derive from trees grown on non-agricultural land with a remarkably less water consumption than cotton.
Produced using a closed-loop process, the clean production reclaims 99% of the organic solvents and water used in the process. Spun and dyed exclusively in Germany, Sensa Green has a low carbon impact due to shorter transportation cycles. For use in fashion, sportswear, intimates, and other garments, the standard weight 40 yarn performs excellently on a wide range of materials.