27/10/2016 –
Aachen-Dresden-Denkendorf International Textile Conference
— auf Deutsch lesen
Textiles contribute to construction innovations and tomorrow's market shares
Textile institutes and SMEs invest much time and energy into developing high-tech materials and structures to generate tomorrow's sales.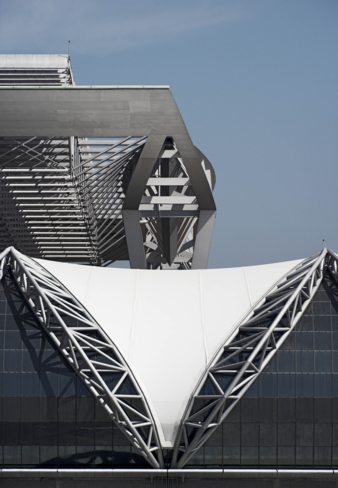 These may include high-performance, fibre-based materials, textile materials for lightweight construction or intelligent fibres. Today's innovative fibre composites, polymers and functionalised textile structures are already creating huge opportunities for small and medium-sized companies across many industries.
Summit for textile researchers and industry expertsTaking place in Dresden on 24/25 November, this year's Aachen-Dresden-Denkendorf International Textile Conference will present numerous new research and development findings which are ready to be transferred into industrial applications. Market-relevant developments and trends will also take centre stage. The increasing use of bespoke carbon fibres, such as those produced at the Institute of Textile Machinery and High Performance Material Technology (ITM) at the Technical University of Dresden, for example, is giving rise to completely new technological outlooks and high-tech products for a wide range of different industries.
Surfaces in the spotlight
Prof. Sebastian Koltzenburg, Principal Scientist at BASF, will talk in his presentation about processes that specifically alter the surface properties of various materials and objects using the thinnest of textile layers – this method can create washable objects, enhance the soiling behaviour of textile fibres, provide hospital textiles and instruments with antibacterial finishes or make human hair easier to comb, to name but a few examples.
Prof. Werner Sobek, architect and engineer, will look at the hitherto unimagined technical possibilities in the construction of façades using textiles, paving the way for extremely lightweight, multifunctional and adaptive building shells. These shells can glow, breathe or adapt independently to changing environmental conditions. He will argue that the huge potential for creating visual and tactile properties for façades is yet to be unleashed. Sobek's aim, therefore, is for fibre-based construction to become firmly established, such that its design potential is fully exploited and its constructional properties in terms of light, acoustics, aesthetics, breathability and moisture transfer are mastered as a matter of course.
Access to new materials, technologies and machinery
Around 80 other speakers from companies operating in the automotive, aerospace and aviation, and chemicals industries, the technical textile supply chain and universities, will discuss the latest findings and possible new applications for fibre composites and polymers, for functionalising textile structures, creating protective and functional textiles as well as mega technological trends. Other topics will include composites, applications in lightweight construction, protective and safety applications, new materials, technologies and system developments. The event which has since established itself as one of the most important industry platforms in Europe takes place once a year, alternating between the textile research centres of Aachen, Dresden and Denkendorf (Baden-Württemberg). This year, the speakers will also be joined by experts from Austria and Switzerland, reinforcing the international flavour of this industry summit meeting.
At a glanceGermany is the leading force for technical textiles in Europe and tops the table of exporters; annual sales total EUR 13bn, with the proportion of exports hovering at around 45 per cent. "Thanks to excellent advances in research, our innovative companies are already offering textile solutions with specific mechanical and protective properties and 'intelligent' additional functions," states Prof. Chokri Cherif, Director of the ITM. The aim of this conference is to bring together companies, research institutes and universities so that they can underpin these competitive advantages by discussing ideas, experience and information.
The Aachen-Dresden-Denkendorf International Textile Conference is taking place from 24-25 November 2016 at the International Congress Center in Dresden.