04/05/2020 –
Advert
Cross-Border Commerce
In 2018, e-shoppers generated sales of more than 1.1 trillion euros worldwide – one of the reasons why more and more retailers want to internationalize their business. For a successful start in global e-commerce, comprehensive know-how is needed.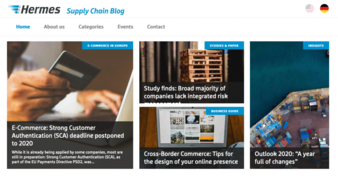 Thanks to cross-border marketplaces such as Amazon or eBay and cross-border logistics concepts, the path to international e-commerce has never been easier than today. Nevertheless, companies face a variety of challenges: From the choice of the marketplace, precise knowledge of the target groups and their delivery preferences up to fulfilment and cross-border logistics.
E-Commerce and logistic blog
Hermes International not only provides its customers with full support in entering the global e-commerce market. In addition to implementing individual logistics concepts and supply chain solutions, the logistics service provider also supports interested companies with a blog offer from the world of global e-commerce and logistics.
With its blog Hermes International wants to answer all questions posed by decision-makers on global e-commerce as well as cross-border logistics. You will find articles on current topics, studies, white papers, expert interviews, thesis papers and a comprehensive glossary.
Do you want to internationalize your business? And expand your cross-border activities and know-how? Then please visit the Hermes Supply Chain Blog here.