05/03/2021 –
Global Summit on 20 – 21 January 2021
— auf Deutsch lesen
Fespa: First virtual summit
Fespa hosted its first virtual Global Summit on 20 – 21 January 2021, welcoming over 165 delegates from 36 countries.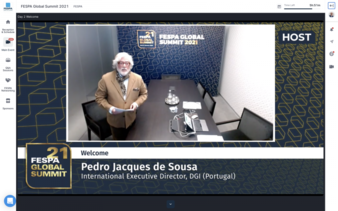 The Global Summit, an exclusive event funded by Fespa's Profit for Purpose programme, invited some of the world's leading printers to connect, learn and debate about the future of the speciality print industry. The two-day summit, hosted by Pedro Jacques de Sousa, International Executive Director at Digital Graphics Group International, was a participative and interactive event featuring a comprehensive programme of presentations. To inspire the speciality print community to build stronger, more innovative businesses, Fespa was joined by print visionaries and marketing experts to discuss the key trends driving the industry forward.
Building on the hottest topics discussed during the Global Summit, Fespa members will be able to download an exclusive white paper summarising the key themes from the event, including print, décor, sustainability, automation, changing consumer behaviours, and engaging the team. The white paper will be available via the Club Fespa Online portal in March 2021. In addition, members can access Global Summit session.