Lectra: Supply chains become networks
The right garment at the right time in the right distribution channel – this is a huge challenge in the era of globalisation and fast fashion.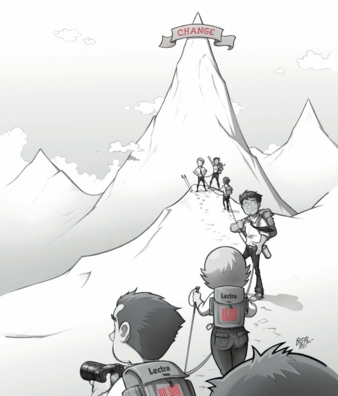 By the time a dress is hanging in a shop, it has reached the end of a long journey from the design phase to manufacturing and distribution. But does this actually mark the end of its adventure? And where does its journey actually begin?
A perfectly organised supply chain begins at the procurement stage. Rather than being seduced by the cheapest offers, what counts are long-term price stability and consistent quality. This can only be achieved by developing strong relationships with reliable suppliers in the right regions. In the face of increasingly fierce competition between brands and at retail, fashion companies have been moving their sourcing and as many of their operations as possible across to China.
However, rising wage costs in the Middle Kingdom have been prompting European enterprises to turn their attention back to their neighbours, resulting in a certain percentage of orders being redirected to Eastern Europe. The shorter distances to market are evidently having a positive impact on logistics costs, coupled with high production quality and reliable delivery.
That said, the decision to shift model development, pattern creation and production abroad gives rise to a whole host of very specific challenges. When it comes to keeping an eye on the overall process and knowing how a collection is progressing, companies today are fully dependent on technology. Once the collection has been planned and executed, the next step is to make the leap into the shops.
Inditex, which owns brands such as Zara and Massimo Dutti, is a pioneer in the field of efficient supply chain management. This company succeeds in bringing new products to its shops twice a week. "Zara collates in-store data which is immediately saved on the system. This is what enables the company to react so quickly. Without a vertically integrated structure, it wouldn`t be possible to achieve this degree of flexibility," states Josh Green, CEO of Panjiva, a US company that brings brands and foreign suppliers together.
The vertically integrated supply chain goes as far as getting the garments into the customers shopping bags. It is essential for fashion companies to know as early as possible in the product development phase which designs sell well and whether, let us say, a fabric has been chosen that customers completely reject.
Many designers still receive this kind of feedback from retailers either by email or telephone. These days, however, modern tracking technology, such as RFID labels, allows specific product data to be saved directly in the companys software. To track the entire life cycle of a garment, more and more fashion companies are implementing a product lifecycle management solution, such as the Fashion PLM platform from Lectra.
This PLM solution has been designed specifically for the fashion industry and integrates as many additional corporate applications as required. This means that every link in the internal and external supply chain can access all relevant data in real time. This leads to the creation of a supplier network that tightly links up the fields of sourcing, design, development, production and distribution.
The Italian fast-fashion company Imperial provides menswear and womenswear to 4,000 customers across the world. Imperial owns 80 single-brand stores and a network of direct product distributors. Each week, this fast fashion company delivers 35,000 pieces of each style Imperials main challenge is time to market.
More details here
www.textile-network.de/business/lectra-supply-chains-become-networks_31364_en