Mewa: Experiencing Industry 4.0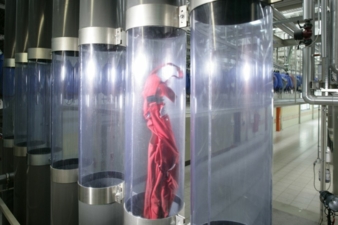 Mewa's North German operation at Lauenburg has been comprehensively rebuilt and is now the company's most modern site. Over an area of 75,000 m², textiles from 10,500 customers are washed, repaired and prepared for distribution – all to the latest technological standards.Not that the laundry is yet running at maximum capacity by any means. It could still handle twice the volume – in the future, up to 700,000 items of clothing a month are expected to be processed here. Managing Director Rolf Lausmann expects the business to come from new customers primarily in the food industry and from the large hotel groups based on the North Sea and Baltic coasts.
With 4,700 employees in 12 countries, Mewa is a textile services business operating across Europe. Its business model is based on hiring out textiles needed by those working in technical and industrial fields; these textiles include workwear and protective clothing as well as brush mats, roller towels and cleaning cloths. The business also offers ancillary services such as dispenser systems for washrooms and cabinet systems for the storage of workwear.
The comprehensive modernisation of its laundry operation cost Mewa some 25 million Euro, with investment poured into machines and equipment, environmental engineering and other technologies that can be attributed to Industry 4.0. 'Thinking' production requires powerful and efficient information technology (IT) and is the key to communication between man and machine.
At Lauenburg, IT is woven into production engineering, providing the business with control technology networks that manage its energy consumption, to give one example. At times when several processes are demanding energy simultaneously, the machines are supplied at intervals with a brief delay that takes into account an optimum production workflow. This avoids expensive peak load demands.
As a result of its information management system, the business is highly transparent. Data capture begins with the vehicle drivers, who carry a portable reader that keeps a record of goods delivered to and collected from customer premises. Thus information on goods coming into the plant is available even before the laundry items have crossed the threshold. And in subsequent processes this transparency is maintained: with barcode readers at every strategically critical point in the operation, the precise contents of each machine are known.
This makes it possible to manage and handle each batch of laundry individually, allowing the company to process goods on a customer-by-customer basis – in contrast to the standard practice in the industry of sorting laundry according to the nature and composition of the batch. All items in a batch thus pass through the operation at the same time and exit the processing chain together.
A significant element of the Lauenburg operation is waste water processing – cleaning up water that, especially if it has been used to launder cleaning cloths, is heavily contaminated with solvents, grease and oils. Here Mewa has made a virtue out of a necessity. Using a combined physical, chemical and biological process, the company has been recovering used oil from its waste water since the mid-1970s. This oil is re-used in the boilers, providing up to 80% of the energy required for cleaning cloth processing in the washing and drying lines. The steam boiler systems needed for this purpose are equipped with high temperature combustion chambers and flue gas scrubbers.
Other environmentally friendly processes at Mewa's Lauenburg plant include detergent dosing according to the degree of contamination of the laundry batch, a multi-stage heat recovery system and efficient recovery and recycling of the water used for rinsing and washing.
In addition, the North German operation invested in automated conveying and sorting technology. At the goods inward inspection station, the dirty clothing enters a pipe system that sends it by means of compressed air to the collecting point. Ultra-modern conveyor technology carries the goods to the machine to which they have been assigned, with sorting technology that brings order to the chaos of the laundry mountain. Finally, the clothing emerges on hangers, sorted by customer and wearer.
Thanks to this wide range of measures, Mewa's Lauenburg plant is state of the art in terms of technology. Yet it might have to surrender its pioneering position before too long: Mewa is planning to construct a new branch in Saarlouis. The new plant could be fitted with a whole new generation of technology – and what is the newest of the new today could once again be outdated.
[ www.mewa.de]
[Sabine Anton-Katzenbach]
Founded in 1980 following the relocation of a plant built in 1955 in Altona, Hamburg
Turnover (2013): 46.5 million Euro
No. of employees: 372 on site, in hubs (Westerstede, Rostock, Schleswig) and as cabinet loaders at major clients
Catchment area: Denmark, westwards and eastwards to the Dutch and Polish borders and the Netherlands, southwards to Hanover
No. of wearers: 92,840 (2014) Workwear and protective clothing laundry volume: 350,000 items per month