Numerous innovations at Techtextil / Texprocess
From June 21 to 24, 2022, exhibitors will present their innovations in the field of technical textiles and nonwovens as well as the processing of textile and flexible materials at the leading international trade fairs Techtextil and Texprocess.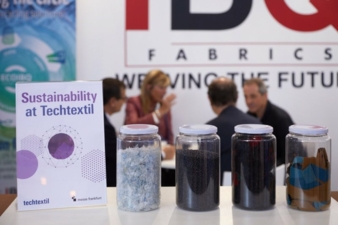 More than 1,100 exhibitors from 45 countries, several joint stand participants and 13 international pavilions are looking forward to presenting their products to an international trade audience. Techtextil and Texprocess highlight innovations, new processes and developments and progressive approaches with a view to sustainability. These include new production processes, materials and machinery. High investments in research and development over the past three years promise high innovative strength.
At Texprocess, international manufacturers will showcase the latest machinery, equipment, processes and technologies for garment manufacturing and textile and flexible materials – ranging from design, cutting, sewing, knitting and embroidery to finishing, IT and logistics.
With twelve application areas, Techtextil promises a wide variety and breadth of product offerings as well as innovative strength on the part of suppliers – from car makers, fashion designers, medical technology specialists to industrial specialists. Exhibitors at Techtextil offer innovative materials for all requirements.
For the first time, a Digital Extension of the two trade fairs will be offered. This enables visitors who cannot attend in person to experience Techtextil and Texprocess digitally and to exchange ideas in a virtual space. Exhibitors benefit from an additional digital presence alongside their stand on the exhibition grounds. For around four weeks, from June 13 to July 8, 2022, the Digital Extension will be available before, during and after the trade fair days.
Sustainability@Techtextil and Sustainability@Texprocess will once again focus on the topic of sustainability this year. Innovative and sustainable materials and their ecological processing with minimal waste and water consumption as well as digital solutions will be presented and awarded at the trade shows.
Many highlights await visitors on-site and digitally. These include the Techtextil and Texprocess Forum, the Techtextil and Texprocess Innovation Award or the areas for international start-ups.
Heimtextil will be held at the same time in June as a one-time Summer Special with 800 announced exhibitors and a high level of international participation from 47 countries.