Professional homepage for weddings
German wedding service Hochzeitsservice Julia turns a wedding into the best and most perfect day in a bride's life.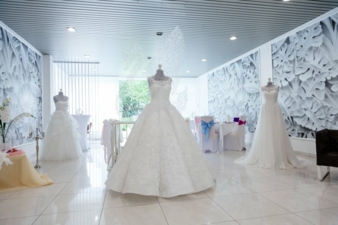 Picture this: a deep blue sky, a mediaeval castle ruin, 140 guests, bubbly and cocktails, a five-course menu served with red wine from Burgundy and white wine from Friuli – and a beautiful bride in resplendent white. To ensure that every detail is in place for the most special day in their lives, a couple will often plan and organise their wedding several months, if not years in advance. Couples wanting to offload some of the responsibility, can employ the services of a professional – such as Hochzeitsservice Julia. Besides a large selection of wedding dresses and evening gowns, a team of visual merchandisers and stylists, photographers and pastry chefs, musicians and DJs are all waiting in the wings to lend a hand. In the early days, the small family-run business relied entirely on recommendations and word of mouth. At the beginning of 2018, the business located in Troisdorf, Germany, opened a store. Given that the business does not depend on passing trade, the company decided to launch a professional website in a move to expand its circle of potential customers. These days, customers search the internet for the best shops, so suppliers without an appealing website can easily fall through the net.
Simply online
"I wanted a professional online presence with high-quality photos that reflect the expertise and stylishness of our family-run business," states company owner Julia Osadcij, adding, "We also wanted to ensure that the site is quick and easy to manage." As a result, she opted for the new homepage solution from Telekom. With the help of the design tool, Osadcij designed the look and structure of her website herself. Although the entrepreneur was not well versed in technical matters, she found it easy to follow the steps and to use the software intuitively. A feature of the website that the wedding specialist particularly values is the Photo Gallery with high-resolution photos. Her customers can view the dresses and accessories right down to the smallest frill and detail, with close-up shots of all the fabrics and cuts. The website went online within just three days. "It was definitely worth the effort. A third of new customers coming to the shop found us through our website," states Julia Osadcji, continuing, "They have a good look at my stock online and then they arrange an appointment for a full consultation by phone or email."
Optimised for Google
It is quite surprising that, according to Germany's Federal Office of Statistics, only 63 percent of companies employing one to nine members of staff have their own website. Osadcji is now planning to optimise her online presence for Google and thus extend her reach. Ideally, she would like to present her services for the perfect wedding to a national audience.
More information about the Telekom homepage solution www.telekom.de/gk/homepages