26/02/2020 –
City and Change – the Future of the Textile Retail Trade
— auf Deutsch lesen
Sustain 2020 in the Run-Up to the International Cotton Conference
Passion for Cotton! 35th International Cotton Conference Bremen from 25 to 27 March 2020. On 24 March, the 2nd Sustain 2020 will take place.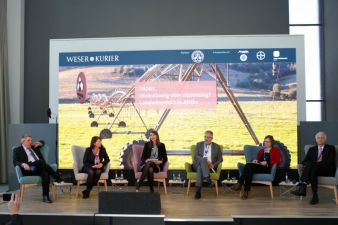 The conference on sustainability in production, trade and consumption will take a second round: The theme "City and Change – the Future of the Textile Retail Trade" is on focus this year. Shirt and trousers or blouse and skirt – clothing is an instrument of expression, a social must and a major factor of consumption. Internet and debates on climate change have changed the indicators.
On the one hand, textile online trade is booming, while local stores have come under pressure to an increasing degree and cities are on the search for new ideas. On the other hand, consumers increasingly ask for products considering aspects of fairness and ecology during production. Manufacturers and stores have to react.
Exciting keynote speakers and panel guest from fashion, science and the textile industry
Sustain will feature outstanding speakers from the economy, politics and society discussing for instance the possibilities of new techniques in stationary retail trade, the compatibility of fair production with business interests of manufacturers as well as the question whether consumers are willing to pay the additional costs of sustainability. These are themes that influence the vitality of the cities just as the purchase decisions of the consumers. Prof. Dr Niko Paech, Professor of Economics, Wolfgang Krogmann, Advisory Director Primark, Urs-Stefan Kinting, Managing Partner of the Zero Group, Model & TV Presenter Alena Gerber, Rolf Heimann, CEO Hessnatur Stiftung, Kai Falk, Managing Director Communication of the German retail association Handelsverband Deutschland and many others confirmed their participation.
Organizer and Partners of Sustain
The newspaper Weser-Kurier is the largest regional newspaper in Germany and has coverage of 400.000 people daily. As international association, the Bremen Cotton Exchange has been representing the interests of all those involved in cotton trade and processing for almost 150 years. Next to the Bremen Cotton Exchange as main partner of the Sustain, the German Corporation for International Cooperation GIZ also supports the event as cooperating partner aiming for fruitful debates about the textile supply chain from the cotton field to the shop.
More information HERE .
Participants of the International Cotton Conference Bremen receive tickets for the Sustain free of charge. Please turn to Annette Mehlhoop
2. Sustain 2020
Tuesday, March 24, 2020
Die Glocke
Domsheide 4
28195 Bremen