Zalando deployes the TXT retail solution
Zalando, with 3,639m Euro in revenue, 1,500+ brands and 200,000 fashion items in assortment, deploys TXT Retail on Time and on Budget.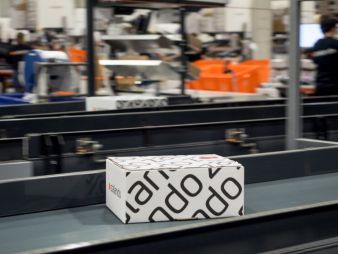 TXT Retail, the first mover and leading provider of End-to-End Merchandise Lifecycle Management solutions for the Luxury, Fashion and Specialty Retail sectors, announces that leading online fashion platform Zalando has now deployed the TXT Retail Merchandise Financial Planning solution.
Zalando, Berlin, deploys TXT Retail to manage the pre-season and in-season merchandise planning and open-to-buy processes for all products, brands and markets that they serve. Over 150 people in the organization use the TXT Retail solution, including the entire merchandise planning and category management team.
In less than a decade ...
Since its formation in 2008 from its headquarters in Berlin, Zalando has experienced extraordinary growth. In less than a decade, Zalando has become Europe's leading online fashion platform for women, men and children's apparel. Offering localized assortments that address the distinct preferences of their customers in each of the 15 European markets that they serve, Zalando's online shops attract over 200 million visits per month.
"We work to connect People and Fashion, offering curated, relevant assortments to our customers," commented Lawrence Jewsbury, VP Category Planning, Pricing & Controlling at Zalando. "After years of tremendous internal and external growth, we needed to rapidly move from a situation of heterogeneous systems and Excel-based procedures for planning. We selected TXT Retail based on their team and solution capabilities."
Best practice planning process
The TXT Retail solution helps Zalando manage its end-to-end merchandise planning processes. From the analysis of past performance to the optimization of margin and inventory targets, TXT Retail provides the planning backbone that helps Zalando keep a firm handle on managing its complex and growing merchandise requirements.
"TXT Retail provided us with the ability to implement a best practice planning process that was quickly adapted and configured to our particular needs and organizational requirements. We needed some unique capabilities due to our online business model. For example, we had to reflect our multi-level pricing strategies in our planning process and adequately deal with customer returns in stock and profitability planning, Working with the TXT planning specialists gave us the chance to redesign and standardize our planning processes leveraging the strength of the TXT Retail platform." added Jewsbury.
'Fashion available anytime, anywhere'
"Zalando realizes the vision of making 'Fashion available anytime, anywhere' thanks to a unique customer experience and a compelling offer" added Simone Pozzi, TXT Retail CEO. "At TXT Retail we are all proud to work with Zalando on a digital-age best in class online merchandise planning process".
Zalando has applied the TXT AgileFit deployment methodology, which accelerates deployment and time to benefits thanks to reference processes and a fully documented, optimized solution.