19/11/2019 –
A one of a kind Albanian company
— auf Deutsch lesen
AFM Distribution Sh.p.k. produces best quality
The manufacture of workwear boasts 260 employees primarily shared between its Tirana and Pogradec sites, and has "its house in order".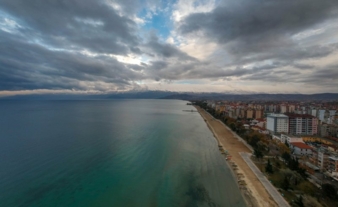 Basis for the sustainable success of the Albanian apparel manufacturer: AFM offers production services equally with the client's designs and materials, or with the client's designs and their own fabrics.
The results achieved by AFM Distribution were hard to imagine until a few years ago. Today the company is demonstrating that it currently has "its house in order" and is ready to aspire even more ambitious goals in future – thanks to entrepreneurship and undeniable leadership shown by the founder of this large company. Myftari has made the most of his strengths thereby making this solid company increasingly visible. Quality manufacturing, meeting deadlines, flexibility and treating people as a precious asset are some of the ingredients resulting in AFM Distribution's growth and competitive edge. "It is important to highlight the capacity to attract long-term foreign investment in Albania", the CEO claims to textile network, "to be achieved predominantly by that one fundamental characteristic when entering into commercial relationships: reliability."
Something to take pride in for AFM Distribution the recent ISO 9001 Certification in 2015 and the BSCI (Business Social Compliance Initiative) Certification awarded for its commitment to ethical business practices. AFM Distribution is one of the first Albanian companies to have achieved these and that represents a new type of ambitious entrepreneurship. textile network correspondent followed the invitation to visit and experience the companies various sites within the country.
Production site Vora
Our first stop is at Vora manufacturing site, a location chosen by the company due to its strategic position between the port of Durrës, the city of Tirana and the immediately adjacent Albanian customs terminals. Technology of the premium category everywhere one looks: Automation solutions branded with the yellow "G" (Gerber spreader XLs50 and Gerber Paragon HX high-ply cutter) currently had been installed at this site. Both raw materials and cut parts are also stored here, for subsequent shrink-wrapping and to be sent to the Pogradec and Tirana production sites.
It is also at Vora, where we meet Gerti Ahmetaj and Taulant Zabuni, cutting room manager and operator respectively. Each operator comes with proven experience and after the initial training provided by certified technicians during the installation and test phase, they are now able to work autonomously – and with peace of mind since "we can rely on the first-rate technical support provided by Gerber Italiana", confirmed Ardiana Karakashi, AFM's General Director.
Further feedback from the Vora team to our correspondent: "The Gerber cutter provides maximum precision, especially when cutting notches and holes". This is particularly critical as the company manufactures workwear and, among the various styles produced, there are some with as many as 200 notches. Here cutting quality is assured from the first layer of fabric to the last.
The result is increased productivity, thanks to the elimination of error margins and the need to re-cut material; state-of-the-art technology has led to a reduction in labor costs.
Additionally, thanks to the introduction intelligent cut plan/order management software (AccuPlan), one is also able to offer their clients effective savings on material thanks due to improved nesting and the possibility for using remnants from the rolls. "The introduction of Gerber Technology's integrated digital solution has improved profitability by approximately 25 percent, allowing the company to invest more in staff training and specialization," the Finance Director points out, aware that on-going staff training is essential if the company is to progress. Besides technology, investment into human resources is to be key here: "A specialized operator with guaranteed and secure employment produces increasingly better results." Figures prove it the concept works in every respect: in a single shift 1.800 parts are cut from 23 pieces of 5 meter lengths with 60 layers (consisting of primary and secondary fabrics).
Moving ahead to the pattern making department we enter the CAD room with two workstations: the first for pattern design, marker making and grading with AccuMark combined with AccuPlan; the second workstation features Gerber's AccuNest software for optimized nesting.
Foresight in its choice of sites
In addition to Vora, there is also a plant situated in the city of Pogradec. This site has been fully operational since 2017, with around 100 employees specializing in trouser production. Pogradec was not chosen for its beautiful lake Ohrid and its magnificent mountains – scenery making it a popular tourist destination – but for the ease with which the border with neighbouring North Macedonia can be crossed – a major route for road transport to foreign countries.
Even if we would still like to stay in this scenic jewel of the Southwest European Balkan State, next stop for our AFM round trip is Tirana, the capital. It was here that we met Edlira Kerrni, the Production Manager, who gave us an idea of a typical day in the company: starting with the preparation of the materials and accessories used for each style – yarns, zippers and other findings – to the strict inspection of the physical samples and data sheets. The data sheets for the styles are modified and updated several times a year, so it is important that they are constantly and rigorously checked.
Our host Besnik Myftari confirms that, thanks to the automations solution now in place, they have accelerated production times, improving quality by 25 percent. Improvement of cost efficiency appears to be dominated by reduced labour costs and drastically ("in double digits") increased degrees of material utilization in comparison to manual cutting, "Our decision pro Gerber Technology has proved to be the right choice, especially also with regard to their service attitude – always on hand to guide us through any operational issues we may face."
Albania
Ignored for decades by European economies, for Albania the new democratic era has triggered a process of ongoing economic and social development and a socio-economic shift, following the fall of the communist regime. Its medium-term economic prospects remain positive: in fact, economic growth of more than 4 percent has been forecast for the 2019–2021 period. This positive pace will be sustained primarily by internal demand, in terms of both private consumption and investment. AFM Distribution acts within this macroeconomic framework; a company born from an idea of its leader – CEO Besnik Myftari.
A Remarkable Entrepreneur
With a degree in Natural Sciences, and another in Economics, and with his natural inclination towards science, Besnik Myftari began his career working as an associate on projects of the Chair of Quantum Physics at the University of Tirana. For ten years he held the ministerial office of Director General at the Ministry of the Footwear, Leather, Plastics and Rubber Industries, and then, until the 1990s, was the Director General for Foreign Trade, entertaining commercial relationships with various European countries.
Several years later he founded one of the first national foodstuff distribution networks, which later closed in 2006. At the same time, as early as 2001, he launched AFM Distribution; for the first three years, the business struggled to get off the ground. Thanks to robust relationships in Germany, established at the head of the Foreign Trade Enterprise, he found his first commercial partners and was able to focus his entrepreneurial efforts on AFM Distribution.
For almost 18 years he strongly believed and invested in the business and is now satisfied that he has achieved the objectives that he set back in 2001.
Barbara Pagani