Aniline-free indigo by Archroma
Advance Denim to become first Chinese denim mill to launch a collection made with aniline-free indigo by Archroma.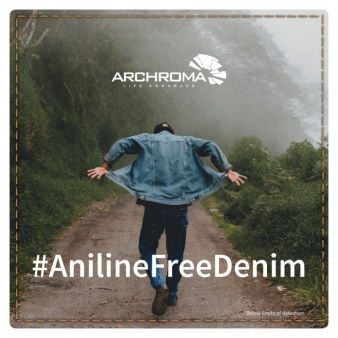 Established in 1987, Advance Denim is the oldest denim mill in China. The company has its own innovative research and development, manufacturing and sales teams, including a 120,000 sqm manufacturing facility in Shunde, China, and well as offices in Hong Kong, Shanghai, Amsterdam and New York.
With its motto 'True to Denim', and focus on innovation and sustainable manufacturing, Advance Denim could only want to explore Archroma's aniline-free indigo solution, when it was first launched in May 2018 as a non-toxic way to produce the traditional, iconic indigo blue that consumers associate with denim and jeans.
During traditional indigo dyeing process production, some of the aniline stays locked into the indigo pigment and is difficult to wash off the fabric. The remainder of the aniline impurity, approximately 300 metric tons annually, is discharged during dyeing. This can be an issue as aniline is toxic to aquatic life. In addition, exposure levels to factory workers can be high. As a result of its toxicity it is now starting to feature on the restricted substance lists (RSL) of some major clothing brands and retailers.
The new Denisol Pure Indigo 30 liq was therefore developed as an aniline-free indigo solution for designers, manufacturers and brand owners who long for authentic indigo inspiration.
Umberto De Vita, Global Business Development, Denim & Casual Wear, Archroma:
"At Archroma, we try to do our part, step by step, and that is why we developed the purest pre-reduced liquid aniline-free indigo available on the market. Together with the most eco-conscious denim mills out there, such as Advance Denim in China, we can make clean indigo – and clean denim."