Freudenberg: Natural fiber nonwovens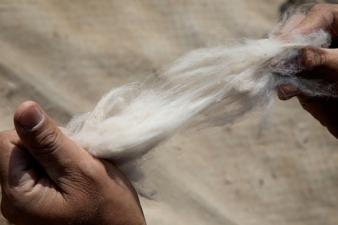 Freudenberg Performance Materials, is presenting three new volume fleeces made of natural materials for high-quality ladies', men's and children's apparel at Munich Fabric Start in early September: Afghan Cashmere, Baby Camelhair and Lambswool. These three natural fiber volume fleeces are particularly suited to applications in exclusive outdoor and fashion jackets. With a choice of three different products, Freudenberg Performance Materials is offering its customers flexibility as regards natural color shades and price.
Afghan Cashmere is the very fine, down-like undercoat of cashmere goats (Capra hircus laniger) that live in the mountainous territory of Afghanistan. In order to survive in such a hostile habitat, characterized by very cold and windy winters and hot summers, these animals develop a dense, very soft and thin fluff. Cashmere fleece is renowned for its light weight, its thermal properties, and for the special feeling of softness and silkiness. Cashmere does not felt and it is long-lasting.
Baby Camel comes from young Bactrian camels. The very fine, soft material is an excellent substitute for cashmere, particularly as regards thermal properties. The characteristics of this fiber are very similar to those of virgin wool but it is much softer and can absorb much more moisture. That guarantees a dry microclimate. Baby Camel is an excellent thermal insulator, capable of absorbing a high quantity of heated air, transforming it into a perfect filling for wintertime.
Lambswool is pure virgin wool obtained from the first shearing of lambs under the age of six/eight months. Lambswool has several advantages compared with the wool from adult animals: it is very thin and soft, it retains heat and absorbs more dampness. Moreover, it is more corrugated and contains more air pockets. Its fibers are thinner and have more filaments. This characteristic gives the fibers greater thermal power. Lambswool filling has a natural elasticity, is breathable, washable and odor resistant.