04/07/2018 –
Beaulieu International Group
— auf Deutsch lesen
Waterway transport reduces dependency on truck transport
Beaulieu International Group reduces CO2 emissions by 300 tonnes thanks to its sustainable container transport programme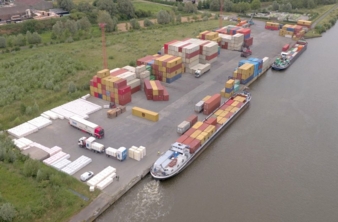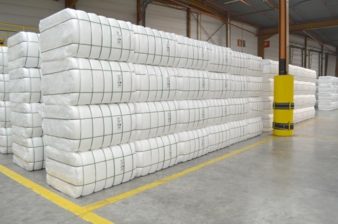 Beaulieu International Group (B.I.G.)announced the results of its global multimodal logistics platform which uses waterway transport to reduce its dependency on truck transport. This successful programme reduced the company's container transport-related CO2 emissions by 36% in 2017 and is scheduled to achieve a further 55% reduction in the coming years.
Container transported via barges
 Since the start of the programme in 2015, it has grown substantially and now 60% of B.I.G.'s output by container is transported via barges starting at the River Terminal Wielsbeke (RTW). The RTW acts as B.I.G.'s global inland hub, connecting the company to major shipping routes and destinations around the world via the Port of Antwerp. The container transport organisation has been set up in close cooperation with RTW operator Delcatrans, who provides barge transport services, and Manuport Logistics, who acts as 4 PL (Fourth Party Logistics) partner for B.I.G..
 Previously all container cargo went by truck to the Port of Antwerp, a distance of 90 km. By changing to water transport, journey times have become more reliable as traffic congestion doesn't have to be factored in; there are fewer trucks on the roads reducing traffic for other road users; and the company's CO2 emissions have fallen. In 2017 the company shipped 3,000 containers via combined road + barge transport, reducing CO2 emissions by 300 tonnes, compared with pure road transport.
 The advantages of shipping by barge in facts and figures:
 • Comparison of average CO2 emissions per tonne/km: road transport 62gCO2/tonne-km, versus intermodal road/barge 34gCO2/tonne-km.
 • Beaulieu International Group transported 3,000 containers via RTW. This is 60% of all containers from the 12 Belgian B.I.G. entities.
 • RTW handled 15,000 TEU via barge in 2017. 5,100 TEU from B.I.G. – more than a third of the RTW's volume.
 • With more than 72 million tonnes, a record volume of goods was transported in 2017 on the Flemish waterways. This is an increase of 6.5% on the previous year. In terms of containers, a new top performance was achieved with 832,000 TEU – an increase of 11.5% on 2016.
 Beaulieu International Group
 Beaulieu International Group is a well-respected industrial group with headquarters in Belgium. It holds an important market position both in the production of raw materials and intermediate goods, and the supply of perfectly finished floorcoverings.
 Beaulieu International Group is composed of three business units. 'Flooring Solutions', is the European leader in wall-to-wall floorcoverings (carpet, needle felt, artificial grass, cushion vinyl, vinyl planks, laminate, parquet, wall panels and mats. A second business Unit, 'Polymers', produces polypropylene granules for numerous applications. The third business unit 'Engineered Products', houses the activities related to 'Fibres', 'Yarns', 'Technical Textiles' and 'Technical Sheets'.
 Another division of Beaulieu International Group is specialized in the development and production of quality upholstery fabrics for the sofa industry.
 Beaulieu International Group currently has 4,553 employees in 25 plants, 14 sales offices and distribution centres spread across 14 countries. In 2017, the Beaulieu International Group´s turnover was €1.8 billion.