04/01/2022 –
Green supply chain management
— auf Deutsch lesen
Only one in three companies record CO2 footprint
The number of companies documenting their CO2 footprint has increased sharply. However, for many, the road to a sustainable supply chain is still quite long.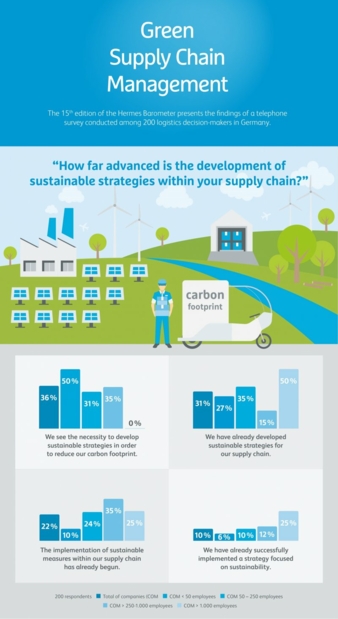 That is one of the key findings of the 15th Hermes Barometer on "Green Supply Chain Management", a survey conducted among 200 logistics managers at German companies.
Almost 75% of the logistics managers surveyed for the Hermes Barometer believe that companies need to integrate environmental and social criteria into their target systems and their decisions in order to ensure long-term competitiveness.
Stephan Schiller, CEO of Hermes International:
"The Corona pandemic has strengthened the trend towards sustainable consumption – and thus sustainability has once again gained in importance for customers. The challenge in logistics should therefore not only be to take these changed requirements into account, but also to continue to drive sustainability in a future-oriented manner."
Around one-third of respondents (36%) have at least identified the need to develop sustainable strategies in order to reduce their environmental footprint in the future. The majority are in the midst of developing or implementing such strategies: among them, almost one-third of respondents have already developed sustainable strategies for their supply chain (31%). Further, one in five companies has started to implement environmental strategy measures within their supply chain (22%). By contrast, only one in ten companies (10%) has successfully implemented a sustainability-oriented strategy to date.
Number of companies accounting for CO2 grows
As a result of these efforts, the proportion of companies recording their CO2 footprint has increased. While only 19% of German companies had reported their CO2 footprint in the spring of 2020, 31% of those surveyed now do so – an increase of 12%. In addition, 56% of those companies also report the CO2 emissions of service providers and suppliers – an increase of 24% compared to 2020. "These increases are considerable, especially in view of the current very challenging times. In addition, they illustrate what companies can achieve when those responsible are committed to sustainability concerns in a results-oriented manner," says Schiller, commenting on the results.
Measures for CO2 reduction
53% of the companies already actively reporting their CO2 emissions are opting for alternative means of transport or regionalizing/diversifying their supply network (47%) in order to cut emissions.
69% of these companies additionally offset the CO2 emissions they cause – an increase of 14% compared to spring 2020. "The clear objective of any sustainability strategy should be to operate in a socially and ecologically responsible manner, yet also economically at the same time. Offsetting CO2 emissions can be a sensible module in this context, something we also rely on at Hermes Germany. Nevertheless, the clear focus for us lies on reducing and avoiding CO2 emissions," says Schiller.
Obstacles on the way to CO2 assessment
In spring 2020, just 8% of logistics decision-makers had planned to report their emissions in the near future, whereas 34% of companies not yet active in this area are currently aiming to do so. Only just one in four of the cited respondents (24%) do not plan to record their CO2 footprint in the near future. In spring 2020, this figure still came up to 65%.
What prevents companies from accounting for their emissions? 37% of logistics managers who do not yet report their emissions cited the lack of uniform standards as an obstacle. This was followed by a lack of sustainability management in the company (35%) and a lack of demand from customers (19%).
Environmental awareness as a driver
For 40% of the German companies surveyed, "green supply chain management" is currently of very high or high importance. In addition, the vast majority of logistics managers (84%) agreed with the statement that growing environmental awareness will be a key driver for changes in supply chains in the coming years. "This change in environmental awareness is also noticeable in our exchanges with customers," confirms Schiller. "Currently, our customers are increasingly approaching us with the desire to make their supply chain more sustainable."
However, the sustainable design of the supply chain often ends at the company limits: 61% of those responsible agreed with the statement that they have only moderate influence on the behavior of their supplier companies and almost no access at all to the behavior of downstream companies.
Logistics experts would therefore like to receive support from their service providers. Thus, 54% of respondents agreed with the statement that logistics service providers should consult on the reduction of CO2 emissions.
Although the majority of respondents have recognized the need for green supply chain management and there is a fundamental willingness to design a sustainable supply network, the shift toward green supply chain management is still in its infancy. "For companies, it is now a matter of actively entering the process in order to secure their own competitiveness and future viability in the long term," says Schiller.
Logistics specialists such as Hermes Germany support companies in identifying and addressing optimization potential along the supply chain. As part of a holistic analysis, existing processes are examined and recommendations for action or concrete measures for increasing efficiency and improving sustainability within the supply chain are pronounced.
About the survey
Participants: 200 logistics managers
Method: telephone survey
Survey period: October/November 2021