Sensitivity about where it's from
Regionality as a model for the future of Germany as a textiles location: Efix relies on yarns of the "Cotton since 1901" brand. An user example.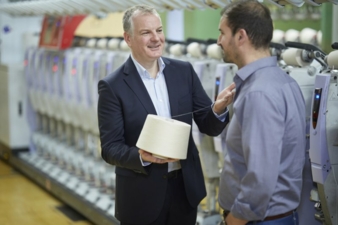 Efix in Hechingen is a local manufacturer of ladies' outerwear, which requires collaboration with local partners as a basic precondition. In its case they include Dietenheim yarn manufacturer Gebrüder Otto (both towns are in Baden-Württemberg). Efix uses Gebrüder Otto's "Cotton since 1901" yarn.
The supplier and manufacturer both see regionality and transparency as a unique selling proposition – and as their growth market.
Gebrüder Otto has spun, twisted, dyed and finished cotton yarns since 1901. There may since have been changes at Gebrüder Otto. Spinning, dyeing and finishing are now high-tech processes. They all meet modern standards and have been perfected in terms of sustainability and environmental friendliness. But the core concept is unchanged: highest "Made in Germany" quality from Dietenheim. And as the quality of the end product depends on the right raw materials Gebrüder Otto's spinning mill uses only extra-long staple cotton grown to ecologically and ethically impeccable standards.
"Demand for high-quality traceable products is stronger than ever"
Since early this summer Gebrüder Otto has labelled yarns made to this quality and with this provenance "Cotton since 1901 – Made in Germany". "Our new brand," says Managing Director Andreas Merkel, "stands for a regional product that our customers can rely on for its well-known quality, for being responsibly manufactured in Germany and for its traceable, transparent provenance. We have long been aware that our customers look specifically for these properties. While business in mass market goods is growing increasingly difficult, demand for high-quality traceable products is stronger than ever."
One of the customers that are already using "Cotton since 1901" yarns on a large scale is Efix Tricot.
Hechingen-based Efix makes ladies' outerwear with a focus on jersey knitwear. Its efixelle and ZAÍDA brand products are available in many German fashion stores. Founded in 1907, the company has been managed for over 30 years by Franz Xaver Bumiller, representing the founding family's third generation. In addition to their respective family firm history, yarn processor Efix and yarn supplier Gebrüder Otto have much in common. "Our main unique selling proposition," says Franz X. Bumiller, "is that our products are largely made in Germany. That gives us much more influence on our goods, from the yarn to the finished product."
Influence must here be understood as meaning insight, given that Efix managing director Bumiller sees transparency as an important part of Efix's DNA.
"Our customers increasingly ask where a garment has come from; they ask about the supply chain." If it is traceable and regional, that is a decisive purchasing argument. "This sensitivity has increased enormously in recent years." And Bumiller is convinced that the trend will continue – "with and without Covid-19". A USP is not a go-it-alone proposition About 70 per cent of the cotton yarn that Efix already processes comes from Gebrüder Otto. In future it is to be 100 per cent "Cotton since 1901".
Along with the reliability and quality of its longstanding supplier that Efix appreciates, the ladies' outerwear manufacturer derives practical benefit from the short distance between them, which is also a precondition for sustainable production.
"We operate with a low basic stock," says Efix managing director Bumiller. "If a garment sells well the retailer can reorder and will usually take delivery at short notice." That is why the further success of Efix depends partly on regional partners and suppliers like Gebrüder Otto. "Our unique selling proposition is only assured if we can collaborate with local companies that transparently and sustainably set the same standards."
Efix Managing Director Franz Xaver Bumiller is convinced that sensitivity about the provenance of a garment will continue to increase. Efix is based in Hechingen, Baden-Württemberg. Andreas Merkel, Managing Director of Gebrüder Otto, in conversation. "Cotton since 1901," made by Gebrüder Otto in Dietenheim "Cotton since 1901" stands for best quality, responsible processing in Germany and a traceable provenance from the cotton boll to the bobbin.
Claudia Bitzer