09/10/2020 –
Digital technology brings the world closer
— auf Deutsch lesen
Intertextile Shanghai Apparel Fabric: The Fringe-programme
The three-day supporting program at Intertextile Shanghai Apparel Fabrics from 23 to 25 September was dedicated to the future of the apparel industry.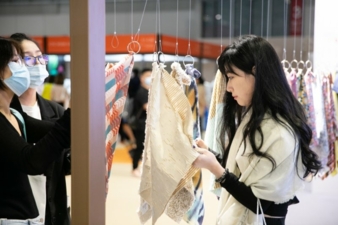 The programme were catergorised into five key themes.
Industry professionals and exhibitors conducted 31 seminars and six themed forums to provide insight for the exhibitors and buyers with highlighted program
Design and Trend, Market Information & Business Strategie, Technology and Solution, Sustainability Issue, Industry Collaboration
In her digital presentation Dr. Eve Chan, Technological and Higher Education Institute of Hong Kong, lectured in the category Market information about "Analysis of Current Textile industry environment and emerging Covid-19 success story sharing". She explained the Belt and Road Initiative (BRI) and what this mean for the textile and clothing. She said: BRI provides opportunities in infrastructure, labour costs, skill transfer, technology upgrade, meaning T&C companies in China/Hong Kong need to collaborate with B&R countries ti overcome some of the recent challenges. China's mergence suggest that any regional free trade agreement will be attractive if it involves the region's largest economy
Jenny Cheung, Faculty of Design and Environment,Technological and Higher Education Institute of Hong Kong, lectured in her online presentation in the category Innovative Materials and Design Ideas about protective materials in times of Coronavirus and presented current developments in antiviral finishing processes.
Overview to the Content of the fringe-programm
Design and Trend: Internationally renowned industrial specialists offered various seminar and panel discussion sessions to reveal A/W 21/22 fabrics and color trend.
Market Information & Business Strategie: The topic "Fabric to Fashion", highlighted "supply chains on the upstream and downstream of textile". In "Upgrading Supply Mode for e-Commerce" were the new trends in the wool industry and e-Commerce discussed.
Technology and Solution: Seminars presented the latest technology and innovation as key theme. A forum introduced successful innovation and application against Covid-19. Sustainability Issue: The Seminars introduced the latest sustainable technology, standard and regulations updates. The Digital Printing Forum were focused on sustainable innovation, practices and business models on digital printing.
The Trend Forum Autumn / Winter 2021-22: Transition
The four themes: Feel Good, Impact, Preservation, Lyric. The designer for AW 2021-22 Trend Forum: Doneger Creative Services from New York. Mr Kai Chow, the Creative Director, introduced the Intertextile Trend, the latest design trends and seasonal trend stories. Fashion is no longer a trend! Change is the only constant in a pendulum rhythm between tradition and future, techno and craft. Trust in evolution is going through an authentic dialogue with people, moving from storytelling to story-acting connections. Fashion will be no season, no gender, spontaneous and globalised, joining extremes. It will promote transformation, enhancing a circular economy, inclusivity and the rational use of global resources, protecting and preserving the resources and cultures we share. The 2020 decade will inspire profound revolutions in the way we think, produce and address the new generations, meshing up past and present to produce the projects of the future.