09/11/2021 –
Global textile apparel flagship fair
Intertextile Shanghai Apparel Fabric's promotes sustainable industry
Intertextile Shanghai Apparel Fabric's Autumn Edition took place from 9 – 11 October in Shanghai, attracting over 67,000 buyers, sourcing from nearly 3,300 exhibitors from 19 countries and regions.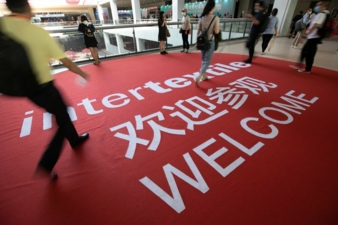 The fair's hybrid format served to facilitate maximum business results as buyers and exhibitors alike took advantage of online solutions, while sustainability again came to the fore of industry discussions, issues and innovations.
In the international halls, there were significant increases in exhibitors among the product zones reflecting the strong recovery in the industry, including a square metre growth of 115% in the overseas Accessories Vision zone, 70% in the Functional Lab and 54% in the Premium Wool Zone. Meanwhile, the Korea and Taiwan pavilions increased by over 100%, while the Japan Pavilion grew by 75%. Almost all of the fair's group pavilions from the likes of DuPont, Hyosung Group, The Lenzing Satellite and The Lycra Company also increased their exhibitor numbers, expanding sourcing options for buyers.
Solutions for an eco-friendly industry
Over the years, Intertextile has placed increasing focus on sustainability issues and solutions for a more eco-friendly industry. This edition was no exception, with even more exhibitors showcasing sustainable products and even more fringe programme activities dedicated to the issue. At the "All About Sustainability" zone, the ecoBoutique hosted a special designated area to display sustainable outfits, whilst in the domestic area, visitors could explore the "Sustainable Fashion Zone" display and "Sustainability Trend Forum".
Some eco-friendly products on show included the Naia Renew cellulose fibres made from sustainably sourced wood pulp and recycled plastic waste by Eastman Chemical Co Ltd and Waste2Wear's fully transparent and traceable materials made from plastic bottles from the ocean. Biodegradable, recycled and organic fabrics were also on display from BYR International and Cotton Council International, among many others.
Meanwhile, sustainability was also one of the four key themes of the fringe programme and included a "Make Sustainable Fashion Accessible to Everyone" forum, along with a series of seminars covering sustainable processes, products, strategies, circular economy, carbon neutrality and more. This dominance of sustainability at the fair sends a clear message about the efforts being made by the industry to work towards a more environmentally friendly future.
Intertextile Shanghai Apparel Fabrics – Autumn Edition took place alongside Intertextile Shanghai Home Textiles – Autumn Edition, Yarn Expo Autumn, CHIC and PH Value. The Spring Editions of these fairs will take place from 9 – 11 March 2022, while the Autumn Editions will be held in August 2022.