06/11/2019 –
Small orders no longer taboo
— auf Deutsch lesen
Texworld Paris
"Some exhibitors adapted to the needs of customers wanting to order smaller volumes and were rewarded with increased sales," says Michael Scherpe, CEO Messe Frankfurt France.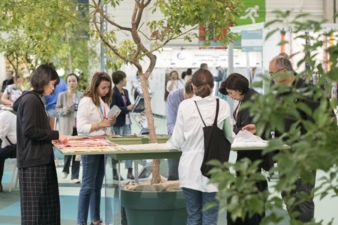 The autumn editions of Texworld Paris and Texworld Denim Paris featured 1,014 exhibitors from 25 countries and attracted 14,862 visitors. The top five visitor countries – France in first place, followed by the UK, Spain, Italy and Turkey – remained unchanged despite economic pressures and political tensions. Strikingly, the number of visitors from Poland jumped by 11 percent, underlining the country's important role in European sourcing. Visitors from other key import countries are likewise on the rise, with Morocco boosting its visitor numbers by 19 percent and China by 41 percent. This year's autumn event was also attended by the USA (up 1 percent), Canada (up 14 percent) and Brazil (up 15 percent). "The market is challenging. We're witnessing instability and uncertainty fuelled by strained relations between several countries," states Michael Scherpe.
The next Texworld Paris takes place from 10 to 13 February 2020.