View Premium Selection
View Premium Selection with high visitor frequency and innovations for Autumn/Winter 2020/21.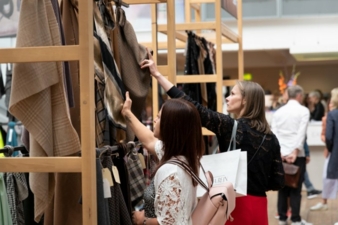 After two intense and inspiring days at the trade fair, the View Premium Selection closed with a consistently high visitor frequency of brands from German-speaking countries and neighboring countries. The strong and well-developed collection of around 400 international preview programs at this early stage ranged from women's and menswear to denim & sportswear, additionals and a newly selected ReSource Area for innovative and sustainable fabrics.
The unique atmosphere of the View offers space and time for intensive exchange and solution-oriented discussions, for exclusive product and design developments.
Just how important these parameters are in a time of upheaval and new challenges within the entire textile and fashion market is shown by the high and sustained visitor frequency right at the beginning of the trade fair by the numerous designers, buyers, product managers and decision-makers from internationally active brands.
Fashion will be defined more than ever by innovations, exclusivity and individuality.
At the same time, sustainability in all its complexity is one of the most important and intensively discussed topics to which highly sophisticated answers have been presented on the supplier side.
The strategic orientation of View as an early format for new developments, initial color and material trends and a high-quality product portfolio has once again been confirmed.
With the View Premium Selection, the few weeks following Munich Fabric Start with the Bluezone as one of the most important international denim shows, the Keyhouse as a think tank for technology and sustainability as well as the new sourcing area in hall 8, the entire textile offer and associated service Services along the value chain ensured.
Autumn/Winter 2020/21
From 3 to 5 September 2019, the next Munich Fabric Start will take place as one of the leading trade fairs for Fabrics, Additionals and Denim & Sportswear. More than 1,200 suppliers show more than 2,000 collections for the Autumn/Winter 2020/21 season.
Munich Fabric Start/ Keyhouse/Sourcing
Tuesday | 3 September 2019 | 9.30 am - 6.30 pm
Wednesday | 4 September 2019 | 9.30 am - 6.30 pm
Thursday | 5 September 2019 | 9.30 am - 4.00 pm
Bluezone
Tuesday | 3 September 2019 | 9.30 am - 6.30 pm
Wednesday | 4 September 2019 | 9.30 am - 6.30 pm
Venue
MOC München
Lilienthalallee 40
80939 Munich