15/06/2021 –
Gunold GmbH – sustainability the way we understand it – part 1
— auf Deutsch lesen
Walking the Green Path with Gunold
More and more people are concerned about nature and the environment and are focusing on sustainability. Textiles play a major role here.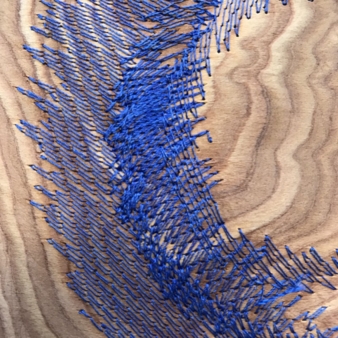 Many resources are needed for their production, manufacturing and supply chains span the globe, and excess production is destroyed unused.
Stephan Gunold, Marketing Manager of Gunold GmbH:
"On the path towards more sustainability and environmental protection, it is important to take a closer look at all steps of textile and apparel production. This is the only way to achieve real improvements. Our products are only a small, but nevertheless important part of the textile value chain. That's why we set out to make our contribution to more sustainability in the fashion industry."
The Gunold company specializes in threads and nonwovens for embroidery and decorative seams. In addition, numerous other products for everything related to the embroidery industry can be found in the comprehensive range. From the very beginning, attention has been paid to resource-saving processes in the manufacture of products; waste has been reduced to a minimum, overcapacities avoided. As an integral part of the company philosophy, this has always been a lived reality.

"Nevertheless, in recent years we have noticed a steadily growing interest among our customers, particularly in sustainability-related topics. It's no longer just about the functionalities of a product, our customers want to know just as specifically what we are doing in terms of sustainability and what sustainable products we offer," says Stephan Gunold. It soon became clear that "we want and need to approach the topic of sustainability in a new way for ourselves and for our customers."
Sustainability the way we understand it
In recent years, the Gunold company has begun to focus more intensively on the topic of sustainability and environmental protection in its activities. Although the company's products had long since been certified according to Oeko-Tex Standard 100, many other textile labels have appeared on the market over the years, covering sustainability, social standards, health, animal welfare, and so on. Complying with these many different labels, each with their costly certifications, has not been the right path for Gunold. Stephan Gunold: "Our strategy is to make products, packaging and processes more sustainable without making products more expensive for label licenses."
And what does that mean in more detail?
Environment and product go hand in hand at Gunold. Consequently, the company invests in the latest production equipment, water- and energy-saving, but also in the latest dyes and chemical substrates, which are essential for production.
A particularly sustainable product is our special thread Sulky made from 100 percent Enka Viscose, which is sourced from ecologically renewable forests. The Cradle to Cradle Product Innovation Institute has awarded Enka Viscose the Material Health Certificate Gold level. Sulky is derived from a natural product, is biodegradable, vegan and has a low impact on the environment due to short transport distances with low CO2 emissions.

A true natural product is the cotton thread Cotty and is made of 100 percent Egyptian cotton. The raw material supplier is a member of the Sekem organization, which stands for sustainable business and compliance with social standards in Egypt.

The polyester thread Poly is produced exclusively in the EU. Although the thread is (still) based on mineral oil, it is produced in a resource-saving way and the transport routes are short.
For all the mentioned products, Sulky, Cotty, Poly, the threads are twisted and dyed in modern energy- and water-saving plants. "The wastewater is so little contaminated by the dyeing chemicals that it can be discharged directly into the local wastewater treatment plant at the plant in Austria," Stephan Gunold emphasizes.
Most products in the Gunold range are manufactured within the EU!
Short transport routes within Europe save considerably CO2, which has a positive effect on the climate balance. In addition, there is the guaranteed compliance with human rights and social standards. In addition, there is the guaranteed compliance with human rights and social standards. "While this is a matter of course for us here in Europe, it should certainly be acknowledged in this context."
For more information about the company's sustainability strategy and other sustainable products, please click here.