07/02/2017 –
Freudenberg Performance Materials
— auf Deutsch lesen
The world's first padding made from fiberballs
The new dimension in thermal insulation will present the world's first padding made from fiberballs at Ispo Munich 2017.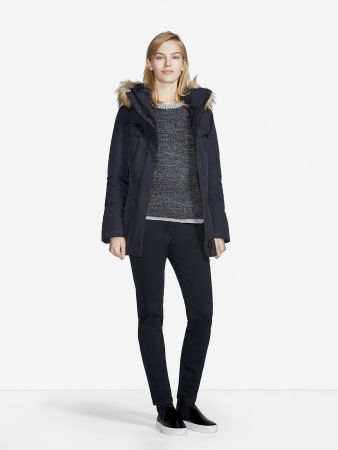 Winter holds Europe in a tight grip. Bitter cold and icy winds are keeping even the toughest fans of winter indoors. Only those who have the best winter clothing can take the weather as it comes. For sportswear and outdoor jackets this means ideally warm, light and breathable garments. Up to now, down has always been the first choice for thermal insulation.
Now, however, Freudenberg Performance Materials is set to present a new dimension in thermal insulation: comfortemp fiberball padding. This first ever padding made from fiberballs combines the advantages of loose down fillings and padding in a quality that has not previously been achieved. For example, thermal insulation is as much as 80 percent higher than conventional padding while the new material is as light and soft as down. Being focused on product innovation for solutions that improve others' lives, lifestyle brand Napapijri will launch the "Superlight Parka" for the 2017 Fall/Winter season utilizing their owned THERMO-FIBRE technology powered by comfortemp fiberball padding.
Ulrich Scherbel, General Manager Freudenberg Performance Materials Apparel, explains: "Padding made from loose fiberballs has been around for quite a while. Up to now, however, it has not been possible to produce a continuous padding from it. With the comfortemp fiberball padding, we have succeeded in uniting the advantages of existing technologies and thermal insulation products while offsetting the disadvantages. The comfortemp fiberball padding is the world's first padding made from interconnected fiberballs."
The thermal insulation of comfortemp fiberball padding is 50 to 80 percent higher than conventional padding. The material consists of many small fiberballs, between which are many small air pockets. These generate the high thermal insulation.
The many small air pockets give the material high permeability. The fiberballs result in a special pore structure that is decisive in achieving a high level of breathability.
comfortemp fiberball padding has a uniform structure that ensures no cold spots can occur in the padding. This structure is even maintained after washing.
100 percent animal protection
Last but not least comfortemp fiberball padding is a genuine alternative to down, meaning that athletes and other active people do not need to worry about animal protection.
The advantages of comfortemp fiberball padding for garment manufacturers
Increased design freedom, easier processing, lower transportation costs
When processing down and loose fiberballs, many small pockets need to be stitched to hold the filling material. With comfortemp® fiberball padding this is either not the case at all or applies only to a limited extent. This offers significantly greater freedom in the design of jackets and pants.
Compared to down and individual fiberballs, processing for garment manufacturers is very simple. There is no need to blow loose materials into countless small pockets. In contrast, comfortemp fiberball padding can be stitched like a conventional padding, saving considerable costs.
Thanks to its almost 100% resilience, comfortemp® fiberball padding can be vacuum packed, resulting in lower transport costs.
comfortemp thermal insulation
At ISPO MUNICH 2017, Freudenberg Performance Materials will also be presenting the entire comfortemp product family. These innovative heat-insulating materials are suitable for a wide range of fashion, sports and outdoor clothing applications. comfortemp thermal insulation enables the combination of creative design ideas with simple processing and combines performance with optimum comfort. comfortemp products have been tested by independent institutes and in the coldest regions of Russia.
?