Heimtextil 2023: bundled range in hall 4.0
Manufacturers and weavers will find a global range of fibers and yarns for decorative and upholstery fabrics for the first time in a separate area in hall 4.0.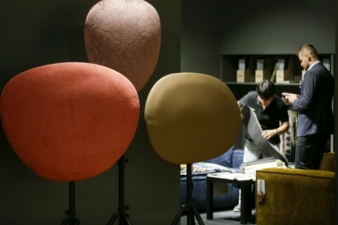 In hall 4.0, the upcoming Heimtextil, January 10–13, 2023, offers an international range of fibers and yarns as well as finished decorative and upholstery fabrics, from the preliminary stage to textile finishing. Already established suppliers from the fiber and yarn segment will be bundled with new exhibitors in hall 4.0 and presented centrally. "With this compact product range, we are responding to an increasing need among manufacturers and retailers: being enabled to shape product development as early as the preliminary stage. A holistic view in the design process is becoming increasingly important – especially for upholstered furniture, which is subject to ever more sustainable as well as functional demands, starting with the fiber," says Bettina Bär, Director Heimtextil for the home textiles sector.
Trevira CS joint stand
One highlight of hall 4.0 is the Trevira CS joint stand: "We are pleased that we will once again be present with a large Trevira CS joint stand featuring 16 Trevira CS customers. Here we will show the wide range of possibilities that Trevira CS fabrics offer in the textile design of interiors. The focus will be on the functions and properties that Trevira CS fabrics offer in addition to their flame retardancy. These will be addressed in our special show Textile Talents by Trevira CS. Aspects of sustainability will be another theme of our stand," says Anke Vollenbröker, Director Marketing & Business Development Trevira CS.
Other leading suppliers in the area include Korteks and Reliance, as well as new exhibitors such as Turkish manufacturer Bulut Tekstil.
Suppliers for outdoor fabrics and imitation leather
Also in hall 4.0, architects, hotel decision-makers and designers will find a high-quality range of outdoor fabrics, technical textiles for the contract sector and imitation leather – including a large number of Spanish outdoor and contract specialists such as Atenzza Outdoor, Cabanes & Ortuno, Citel, Fernando Cerda Blanes e Hijos, Exit Fabrics, Pyton and Recasens. Italian manufacturer Tendaggi Paradiso, as well as leather and imitation leather suppliers such as Turkish brand Flokser and German companies mah-ATN and Vowalon, will also showcase their new products.
The range will be rounded off by exhibitors Ambienta, Futura Leathers, Gebrüder Munzert, Gruppo Mastrotto and Indetex, who will be presenting their high-quality fabrics for the contract business directly on the boulevard in the form of selected complete stands.