Heimtextil on track for even greater success
With even more exhibitors, Heimtextil – the largest and most important international trade fair for home and contract textiles – kicks off the new year between 10 and 13 January 2017.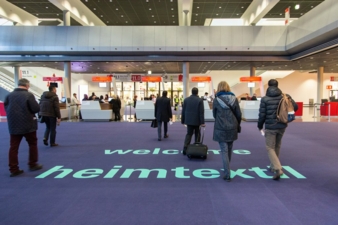 The fair has grown in particular in the area of decorative and furnishing fabrics. Hence, at the upcoming Heimtextil, Hall 4.0 will be reserved for this product group only. An especially large number of new companies from Belgium and the USA have registered but so have editors from Italy and the UK. Speaking to textile network, Thimo Schwenzfeier, Marketing Communication Director, stated: "In terms of growth, quality is our number one focus and we are willing to be selective when it comes to positioning our exhibitors in Hall 4.0." Another of the areas seeing significant growth is table linen in Hall 9.0.
In the 'Theme Park' in Hall 6.0, Messe Frankfurt continues with the 'Trends in home textiles' theme first conceived in 1991. The overarching topic for this year is 'Explorations', with an invitation to make a journey into a world of curiosities, staged by the French fashion bureau Carlin International under the direction of Exalis, from Berlin. "We want Theme Park 2017 to re-inspire people to contribute," says Thimo Schwenzfeier. "There is something new to be discovered around every corner."
Highlight: Micro Factory
Until now, the Theme Park has been by itself in Hall 6.0. For reasons of space – and because they fit well together – the whole of the Digital Print area has now been integrated into Hall 6.0. The Digital Print Technology product group covers printing machines, software and accessories in the growth sector of digital printing. "Digital print supports the trend towards individuality," continues Thimo Schwenzfeier. He explains: "Using digital print, there is no problem printing small production runs." The construction of a 'micro-factory' will be a major highlight – Industry 4.0, the subject of the future, in miniature. According to Schwenzfeier, "An entire production cycle will be demonstrated, with all the machines networked."
Similarly right up to date is the theme of sustainability, conservation of resources and adherence to social standards in the interior textiles sector. The 'Green Village' area reappears to cover this area. Olaf Schmidt, Vice President Textiles & Textile Technologies at Messe Frankfurt, explains: "As hosts of the leading trade fair in the world for home textiles, our aim is to strengthen the market for green textiles and to act as a guiding and stimulating force. For this reason, Heimtextil is offering a forum for companies that operate in a sustainable manner, bringing resource-efficient products into the limelight and issuing invitations to a parallel event programme. We are convinced that the future belongs to the market for sustainable textiles."
Interior, Architecture, Hospitality
The area formerly known as 'Contract Business' has undergone a change. "We had to acknowledge that the term 'contract' was not clear for visitors such as interior architects," says Thimo Schwenzfeier. This area will therefore now fall under a new banner, 'Interior, Architecture, Hospitality'. The salon at the forum in Hall 4.0, which is the meeting point for architects, interior architect and designers, will be designed by students. Outside the grounds of the trade fair – in the city of Frankfurt – there will be guided tours of different hotels as examples. And a new IAH Guide is being produced.
In 2017, the Heimtextil trade fair becomes a partner for the first time in the 'Finest Interior Contracting' industry award. An honorary jury will select the award winners from among the best nominations in 16 categories ranging from 'Hotels', via 'Bars' and 'Restaurants' to 'Stores', 'Offices' and 'Public Buildings'. Olaf Schmidt, Vice President Textiles & Textile Technologies, is a member of this jury. The award will be made during a private dinner held in parallel to Heimtextil and the winners will be introduced in the course of a Heimtextil press conference. Since 2014, the Finest Interior award has gone to particularly individual and professional examples of contract furnishing. In conjunction with selected brand partners, the prize rewards the creative work of interior architects, interior designers and outfitters for holistic individual planning, furnishing and decoration of new or refurbished buildings. The Finest Interior prize is awarded independently and takes no account of brand.
Heimtextil Insiders
Messe Frankfurt is once again providing the free 'Heimtextil Insiders' programme exclusively for interior designers. For the first time, the service is being expanded outside Germany's borders to include the whole of the German-speaking world, in response to the wishes of visitors from Austria, Switzerland and northern Italy. Owners, managers and employees at interior design businesses can register as 'Heimtextil insiders' for free and with no obligation at www.heimtextil-insider.com.
"We offer interior designers first-hand information at the most important industry event in the world," says Heimtextil director Sabine Scharrer. "Through our 'Heimtextil Insiders' programme, we aim to offer them support and a warm welcome to Frankfurt." In addition to Messe Frankfurt, a number of well-known companies and associations are involved with 'Heimtextil Insiders'. Messe Frankfurt is putting together 'Suppliers for the trade', also on display in the Insider area. The catalogue provides an overview of suppliers who are specifically offering small production runs and couponing at Heimtextil.
Success abroad
"After Frankfurt, Intertextile Shanghai Home Textiles is the second biggest event," explains Thimo Schwenzfeier. The latest fair, which was for the first time held at the National Exhibition and Convention Center, between 24 and 27 August 2016, was the largest in the event's 21-year history, with 1402 exhibitors from 30 different countries. Wendy Wen, Senior General Manager at Messe Frankfurt (HK) Ltd., explains: "The small drop in visitor numbers was due to the economic situation in China at the time. Many exhibitors, however, were very satisfied with the quality of the purchasers."
Heimtextil Russia, which took place in Moscow from 20 to 23 September 2016, was also highly successful, with 229 exhibitors from 18 countries. Here, a healthy increase in visitor numbers compared with the previous year was recorded.
"Heimtextil India is also very good," says Thimo Schwenzfeier, although it is solely for the domestic market. In India the fair takes on its own, rather different structure – "The Heimtextil and Ambiente trade fairs appear together here. By contrast, "homextiles sourcing", as the name suggests, is a trade fair purely focusing on sourcing.